Deadline: July 27, 2016
Applications are currently open for the 2017 World Bank Young Professionals Program. The YPP is a starting point for an exciting career in the World Bank. Since its inception in 1963, the YPP has recruited over 1,700 people from nearly 120 countries, who now range from new recruits to senior management in the World Bank Group.
This Program is designed for highly qualified and motivated individuals skilled in areas relevant to the WBG technical/operations such as economics, finance, education, public health, social sciences, engineering, urban planning, agriculture, natural resources and others; as well as to WBG corporate areas such as communications, information technology, human resources and corporate finance. To be competitive for this highly selective program, candidates need to demonstrate a commitment to development, proven academic success, professional achievement, and leadership capability.
Eligibility
The following are the minimum requirements to be eligible for the Young Professionals Program.
Citizenship of a member country of the World Bank
32 years of age or younger (i.e. born on or after October 1, 1983)
Fluency in English
Full proficiency in one or more of the WBG's working languages: Arabic, Chinese, French, Portuguese, Russian, and Spanish is desired but not required.
Specialization in a field relevant to the WBG Technical/Operations such as economics, finance, education, public health, social sciences, engineering, urban planning, agriculture, natural resources, and others. Note: No positions will be offered in WBG Corporate areas in the 2016 YPP Selection Process.
At least 3 years of relevant professional experience related to development or continued academic study at the doctoral level.
Additional Qualifications
To be competitive for the limited number of positions, a combination of the following credentials is highly desirable:
Display a commitment and passion for international development
Possess outstanding academic credentials
Exhibit excellent client engagement and team leadership skills
Have international development country experience
Be motivated to relocate and undertake country assignments (operational stream)
Recruitment Cycle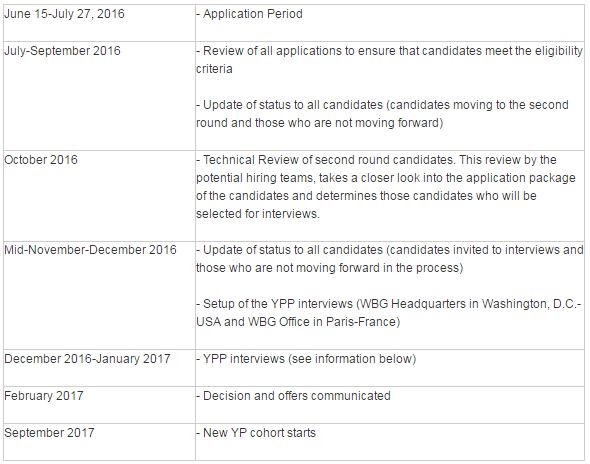 Benefits
Young Professionals are offered a 5-year term contract, spend 24 months in a structured development program, and enjoy a variety of benefits and opportunities.
Young professionals may take part in field business trips, also called 'missions,' in developing countries.
Enjoy a blend of learning opportunities ranging from on-boarding activities, e-learning, cohort discussions with WBG leaders, leadership training, career development conversations, and networking opportunities.
Access to several coaching & mentoring experiences.
Compenstation: competitive salary, health insurance, relocation benefits,pension plans and lots more.
How to Apply
Create an account and complete and submit the online application. You must complete your application in a single session and will be able to submit it only if you have uploaded all the required documents and answered all the questions.
Be sure to  attach the following documents (mandatory):
CV
Education Certificates/Transcripts
PhD Dissertation/Master's Thesis topic (short summary), if applicable
Application Essay
(Note that each file should not exceed 5 MB each, and should be in the following format: .doc, .docx, or .pdf)
For more information visit the World Bank YPP