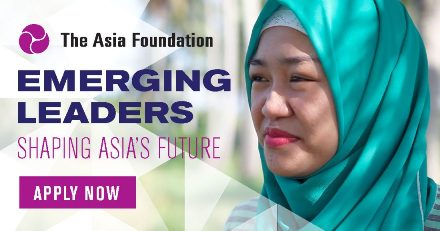 Emerging Leadership For Asia's Future -Asia Foundation Development Fellows Program 2017
Deadline: November 21, 2016
Asia Foundation invites applications for the 2017 Emerging Leadership Program. The Asia Foundation Development Fellows: Emerging Leadership for Asia's Future program provides highly qualified, young professionals from Asia with an unparalleled opportunity to strengthen their leadership skills and gain in-depth knowledge of Asia's critical development challenges.
The year-long professional advancement program draws on The Asia Foundation's extensive 18-country network and deep expertise working with innovative leaders and communities across the region. The program is designed to be a multifaceted experience, involving intensive learning modules – short courses, conferences, and study tours in Asia and the U.S. – to enhance leadership skills, Asian development knowledge, professional networks, and international exposure.
The 2017 program will commence in April in Korea with a four-day Leadership Development Workshop presented in partnership with the Korea Development Institute, and will continue in Vietnam where the Fellows will engage with various development practitioners to understand the mechanics of change on the ground. In September, the Fellows will visit San Francisco, New York City, and Washington, D.C. for a two-week leadership dialogue and exchange. A flexible professional development award of US $5,000 will also be provided to each Fellow to use throughout the Fellowship year.
The program includes the following
Leadership Training Program
Workshop on Asian Development
Leadership Dialogue and Exchange
Professional Development Award
Mentoring
Eligibility
Asia Foundation Development Fellows must:
Have a demonstrable record of high achievement, and must show evidence of outstanding potential for professional advancement, and significant impact in their chosen field;
Have a demonstrable record of experience and accomplishment related to The Asia Foundation's fields of expertise – governance and law, economic development, women's empowerment, environment, and regional cooperation;
Have outstanding personal character and integrity;
Be thoughtful, committed, respected and inspirational leaders within their professional fields and within their larger community;
Be under 40 years of age by January 1 of the fellowship year (year following application deadline);
Be conversant in English (TOEFL exam results are not required);
Be available and able to participate in all program components on the program dates specified; and
Be resident nationals or citizens of the following countries where The Asia Foundation has programs: Afghanistan; Bangladesh; Cambodia; China; India; Indonesia; Japan; Korea; Laos; Malaysia; Mongolia; Myanmar; Nepal; Pakistan; Philippines; Singapore; Sri Lanka; Thailand; Timor-Leste; and, Vietnam.
Program Dates
November 21, 2017 (Monday, 11:59pm [PST])- Application deadline for the 2017 Fellowship year
January 2016-Selection finalized
April 9-22, 2017

South Korea – Leadership Training Program
Vietnam– Workshop on Asian Development

September 10-26, 2017
USA – Leadership Dialogue and Exchange
How to Apply
Check your eligibility
Please carefully read the Eligibility and Selection criteria above, including our frequently asked questions.
Prepare for the application
Review and follow the Application Guidelines and Instructions containing detailed information on how to complete each component of the application.Download: 2017 Application Guidelines and Instructions (PDF)
Online Application form includes:

Personal information
Written submission
Supplementary materials: CV and transcript
Short video submission
Letters of recommendation (handled online)

Start your application- Online Application.
Please direct your inquiries to the Asia Foundation Development Fellows staff at [email protected].
For more information, visit Asia Foundation