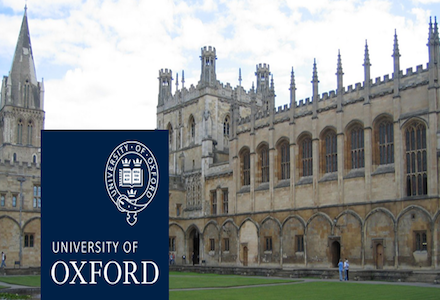 Oxford-Thatcher Graduate Scholarships 2017/18 (Full-funding)
Deadline: January 6 or 20, 2016
The University of Oxford is offering Oxford-Thatcher Graduate Scholarships for the 2017-18 academic year. The aims of the Thatcher Scholarships are to foster academic excellence, to support individuals who have a determination to succeed and to equip them to excel in their chosen field.
The scholarship is only tenable at Somerville College. All eligible applicants will be considered for this scholarship, regardless of which college (if any) you state as your preference on the graduate application form. However, successful applicants will be transferred to Somerville College in order to take up the scholarship.
Eligibility
You must be applying to start a new full- or part-time course in one of the following departments: Faculty of English Language and Literature, Department of Engineering Science, Faculty of Law.
The Oxford-Qatar-Thatcher-Scholarship is available to all candidates, with a preference for students ordinarily resident in the following countries: Algeria, Bahrain, Egypt, Iraq, Jordan, Kuwait, Lebanon, Libya, Morocco, Oman, Palestine, Qatar, Saudi Arabia, Sudan, Syria, Tunisia, United Arab Emirates, Yemen.
Scholarships will be awarded on the basis of academic merit.
Applicants who hold deferred offers to start in 2017-18 are not eligible to be considered for these scholarships.
Scholarship Worth
100% of University and college fees and a grant for living costs (at least £14,296)
How to Apply
In order to be considered for this scholarship, you must submit your application for graduate study by the relevant January deadline for your course (6 January or 20 January 2017. See the Courses page for the deadline applicable to your course).
To be eligible for consideration for this scholarship, applicants must be successful in being offered a place on their course after consideration of applications received by the relevant January deadline for the course. Course applications which are held over after the January deadline to be re-evaluated against applications received by the March deadline or course applications which have been put on a waiting list are not eligible for scholarship consideration.
For more information, visit Oxford Thatcher Graduate Scholarships.