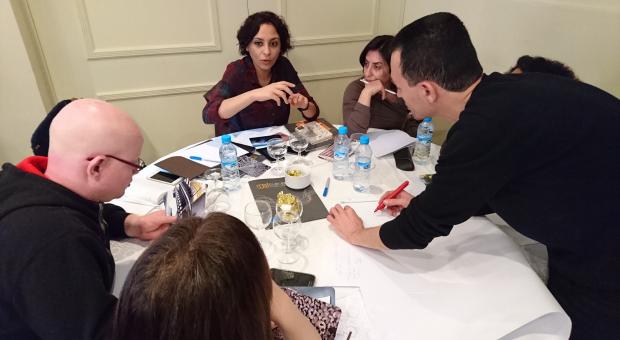 Med Culture Capacity Development Workshops 2016/2017
Deadline: October 21, 2016
Med Culture, an EU-funded Regional Programme, is launching another call for participation in two Peer to Peer (P2P) workshops, this time addressing the theme "Cultural Entrepreneurship: Create your own business model!" Capacity development is a Med Culture core activity that provides cultural practitioners working in different cultural fields, both from the civil society and public sectors, with the opportunity to discuss common challenges and share experiences with their peers in the involved South Mediterranean countries.
Selected candidates will participate in two capacity development workshops:
The first 3-day workshop is scheduled to take place in Tunis from December 17-19, 2016;
The second workshop will be scheduled in February 2017 (host-country yet to be determined).
Cost
Travel and accommodation expenses are taken in charge by Med Culture.
Eligibility
Open to cultural practitioners from South Mediterranean countries, aged between 25 and 45 years at the time of application.
Candidate should

have a strong command of Arabic. Knowledge of French OR English is a requirement;
work in the cultural field within civil society/cultural organisations, the public sector, or as freelancers;
be committed to participate in both workshops related to the subject;
be residents in one of the involved countries: Algeria, Egypt, Israel, Jordan, Lebanon, Morocco, Palestine and Tunisia.

Candidates with Syrian or Libyan nationality who come from the civil society sector and who reside in their country or elsewhere are also eligible.
Application Process
Send your:
CV in French, English or Arabic (education, current activities, etc.), with your full name and birth date as they figure in your passport;
Motivation letter explaining your interest in these two workshops (why are you interested to participate and what objective do you plan to achieve or develop);
Candidates need to make sure that the CV and your motivation letter are submitted in one file of maximum 3 pages for the whole application in Arabic, French or English to send to: 

[email protected]

and to 

[email protected]
Results will be announced on November 10, 2016 and selected candidates will be informed by e-mail.
For more information, visit Med Culture Capacity Development Workshops.