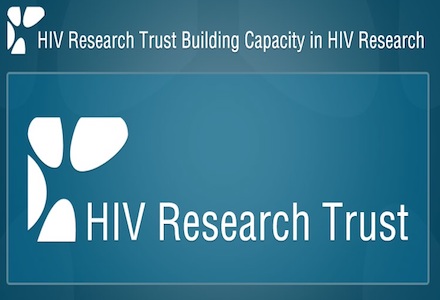 HIV Research Trust Scholarship Award 2017
Deadline: October 31, 2016
The HIV Research Trust awards short-term scholarships to health care professionals in developing countries to help recipients learn skills and techniques which will add to their local department's capacity in HIV treatment and prevention. More than 200 awards have been made to date.
The support is in the form of financial awards allowing the scholar to undertake a placement or course of a few months' duration intended to cover course or placement costs, travel, consumables and living expenses. The scholarships are awarded competitively based on a peer-review process on an annual basis. They are designed to enable the candidate to travel to another research unit to learn skills and techniques which should develop the candidate's career and, on return to the home institution, add to the capacity of the department to carry out research related to treatment and prevention. Examples of skills and techniques that may be acquired are; clinical management, clinical trial experience and practice, data and trial management, statistical expertise, acquisition of laboratory techniques and analysis, cell and molecular biology.
Eligibility
If the answer is yes to all the questions below you will be eligible:
Are you working in the field of HIV?
Are you in your early to mid career?
Are you employed by an institution within a low-income and lower-middle-income country?
Are you proposing to start your programme in the year for which the HIV Research Trust scholarship programme is intended?
Does the intended programme benefit your career and also build on the capacity of the home institution?
Awards
The scholarships provide support for travel, living expenses including accommodation, and may provide support for laboratory expenses at the institution to be visited. The preference is for applicants to receive training in recognised centres in other resource-poor countries but travel to other areas is not excluded. The usual period of support is 2-6 months but exceptionally support for one year may be given. The maximum sum awarded is £8,000 or equivalent value.
How to Apply
Before applying, please read the FAQ section for application tips.
Complete online application
Complete application includes

Proposed research: Give a clear account, in approximately 500 words, of your current and proposed research and how the scholarship will help you make progress.
References
Supporting documents

CV
Letter of support from home institution & Letter of confirmation from host institution
Breakdown of cost of visit
Amount requested from HIV Trust

For more information on these documents, see the Application Guide.
For more information visit HIV Research Trust.