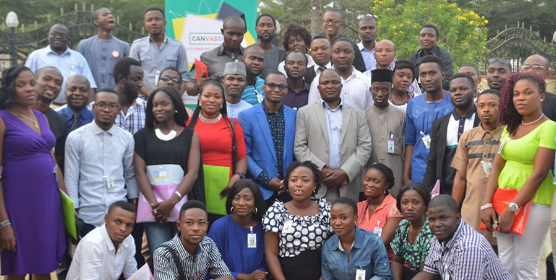 CANVASSITY Pan African Youth Democracy Fellowship Program 2017
Deadline: December 2, 2016
The Youngstars Foundation is now accepting applications for the 2017 CANVASSITY Pan African Youth Democracy Fellowship. This is a dynamic innovative youth and governance program designed to improve the capacity of young people to effectively engage elected representatives and government institutions to become more accountable, efficient and to deliver impactful governance to citizens.
Are you asking questions like;
How can government work better, be more efficient and impactful in Africa?
What are the strategies to better engage elected representatives and get desired results?
How can we demand and promote the culture of accountability in public service?
Is it possible for me as a youth to make a difference in governance and my community?
If you have been asking any of these questions, then here is your chance to join 50 audacious youth from 15 African countries on a quest to learn how to promote accountable, efficient and impactful governance in Africa through CANVASSITY Pan African Youth Democracy Fellowship 2017.
The program shall require participants to participate in two semesters of five-day workshops, step down activities in their communities, engagement with elected representatives and government institutions, learning visit to Ethiopia to engage with the AU/regional institutions and showcasing their projects at the CANVASSITY Democracy Exhibition among others. It's an intense and demanding program designed for youth who have a conviction that we can make democracy and governance work in Africa!
Focal Areas
Improving public service administration
Strengthening electoral processes
Tracking campaign promises
Tackling corruption
Actualizing a youth-focused Sustainable Development Goal (SDGs)
Improving security
Benefits
Two Semesters: Each semester shall be a 5 day workshop and each semester shall hold in two different Nigerian cities in February and September 2017. The first semester shall hold on 20th – 24th February 2017.
Passing It On: This is a mandatory step down exercise where participants are required to conduct a step down and share what they learn from semester one workshop with at least 40 youth in their place of residence, to qualify for semester two.
Engaging Governance Challenge: Each participant after the first workshop shall embark on a 6 months challenge to engage their elected representative or government institution to address a social problem of their choice.
International Learning Visit: Selected participants shall also participate in a 10 days Learning Visit to the African Union in Ethiopia to better understand how regional bodies like the AU are working to promote democracy and good governance in Africa.
Democracy Works CANVASSITY Exhibition: The program shall conclude with the second semester workshop in September 2017 in Abuja. 
Cross Border Exchange: One of the major value add of CANVASSITY is the unique opportunity to meet, share, learn and network with youth from 15 African countries.
Eligibility
Young people in Africa aged between 18 – 35 years.
How to Participate
Application Deadline: December 2, 2016.
For more information, visit CANVASSITY Pan African Youth Democracy Fellowship.