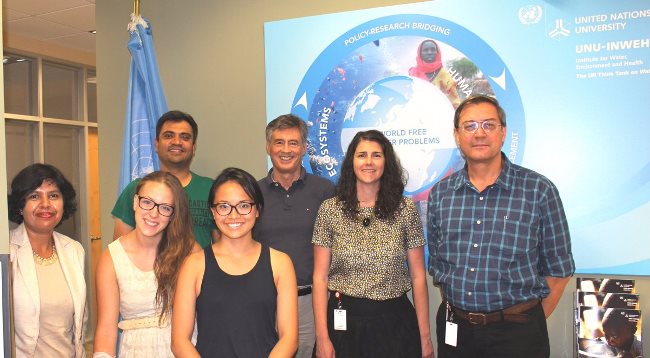 UNU-ViE Internship Programme 2017 in Bonn, Germany
Deadline: December 4, 2016
Applications are ongoing for the UNU-ViE Internship Programme 2017. The United Nations University Vice Rectorate in Europe (UNU-ViE), as the only Vice Rectorate outside of Japan, supports the worldwide institutional development of UN University, particularly in Europe and Africa. UNU-ViE facilitates collaboration across the UN University and the United Nations, and shares knowledge and expertise through the development of joint programmes.
The successful candidate will be based at UNU-ViE in Bonn on a full-time basis for a contractual period of 3 months. The internship is not remunerated. Next to a set of interesting and unique tasks, you are offered insights into the structure and functioning of the United Nations University. Your internship at the Vice Rectorate in Europe gives you the opportunity to collect work experience in a multi-cultural work environment.
Responsibilities
Provide administrative support, e.g. assist in the drafting of high-level correspondence, agendas, reports;
Assist in the organization of the Vice-Rector's missions and meetings;
Proof-reading and copy-editing activities;
Assist in the organization of international events;
Support the Vice Rectorate's strategic planning and institutional development related activities;
Other duties as required.
Eligibility
Suitable candidates would have a background in International Relations, International Development, International Law, Translation, Political Science, or related field;
Have excellent command of English. Other languages, such as German, will be considered an asset;
Have ability to work productively and maintain effective working relationships with people of different national and cultural backgrounds;
Possess computer software skills (e.g. MS Office).
Application Process
STAGE 1
Interested applicants should submit their application by e-mail to [email protected] and must include the following:
Curriculum Vitae in English;
Cover letter in English: Outlining your motivations, possible contributions to the programme and future career goals;
Completed UNU-ViE application form;
Two letters of recommendation.
STAGE 2 (Interviews)
If your background matches the needs of the section, you will be shortlisted for the position. Shortlisted candidates will receive an email notification from UNU-ViE to schedule a date and time for the interview, which will be conducted via Skype. Interviews will take place in the week between 5 and 9 December 2016.
STAGE 3 (Acceptance)
After interviews have been conducted, all those candidates who were interviewed will receive an email notification regarding their application status. Successful candidates will be offered an internship position and contract for the duration of 3 to 6 months.
For more information, visit UNU-ViE Internship Programme.