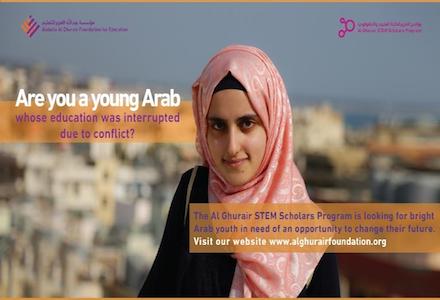 Al Ghurair STEM Scholars Program For Arab Students
Deadline: January 15, 2017
Are you an exceptional student with a passion for Science, Technology, Engineering or Math (STEM) ? Are you curious, creative, and determined to pursue your dreams regardless of your circumstances? Al Ghurair STEM Scholars Program can offer you the scholarship and support system you need to realize your goals. The Abdulla Al Ghurair Foundation for Educationis now welcoming applications for the Fall 2017 semester!
Eligibility
Arab Citizenship: You must hold no other passport. Preference given to residents of Arab world for at least 12 years.
15-30 years of age: For undergraduate applicants, you must have graduated from high school within the last 4 years.
Academically High Achieving: You must have a cumulative GPA of no less than 85% in high school or 3.0 in university.
Financial Need: You must be willing and able to show proof of your financial need in your application.
Applying to partner universities: You must be planning to apply or currently attending one of the partner universities.
Benefits
Financial Support: Receive full or partial support for tuition, housing, health, insurance and living costs
Mentoring & Advising: Access mentorship, academic advising and career support to prepare you for your career
Community Service: Give back through community service projects that support causes you believe in.
Hands-on learning: Access opportunities to gain quality practical experience in a real work environment
Scholars Network: Connect with and exchange experiences with Al-Ghurair Scholars from around the region
How to Apply
Please read complete application guidelines here.
For more information, visit STEM Scholars Program