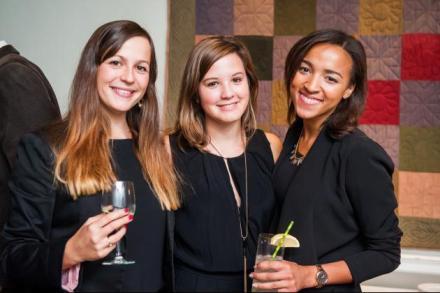 Heinrich-Böll-Stiftung (HBS) Internship Program 2017- $700 Monthly Stipend
Deadline: April 1, 2017
Heinrich-Böll-Stiftung (HBS) North America invites applications for its 2017 internships. Internships at the Heinrich-Böll-Stiftung North America give students and recent graudates the opportunity to test their academic knowledge within the context of HBS' work.
HBS prefers a full-time commitment (40 hours/week), part-time internships (at least 20 hours/week) can be arranged for a period of at least 3 but no more than 6 months.
Eligibility
Interns should have at least two years of university experience, and be enrolled in a bachelors or masters degree program – exceptions can be made for recent (<1 year) BA graduates .
Applications from mid-career professionals or applicants who have completed their MA will not be accepted.
All applicants should express a genuine interest in the values and mission of the HBS and have experience in the desired program area(s).
Support
HBS offers a monthly stipend of $700 for full-time interns, and proportionally less for part-time interns.
Intern Responsibilities
Administrative duties and responsibilities:
logistical support for the conceptualization, preparation and management of visitor programs, events, conferences and workshops.
answering telephones.
responding to information inquiries.
updating and managing of the office database.
Capstone Projects:
In addition to the administrative duties listed above, interns will be given the opportunity to design their own capstone project(s) with the assistance and guidance of the program directors.  Examples of possible projects include (but are not limited to) the following:
A 5-10 page policy paper (to see an example of an intern policy paper click here).
Interview with a policy expert on topic of choice (either as blog form or video)
Script for 2-3 min explanatory video
Series of short blog pieces or op-eds on topical issues in Washington
Programs
Sustainable Development (Start: September 2017)
Deadline: April 1, 2017
Sustainable development interns will work with supervisors from our Economic Governance and Climate Policy and Finance programs. The Economic Governance Program focuses on democratizing governance structures to ensure that the international financial institutions and bodies (e.g. G20 and BRICS), are representative and accountable. The Climate Policy and Finance program analyses and monitors the emerging global climate finance architecture, especially public climate funds and helps coordinate civil society participation and input into the new Green Climate Fund (GCF), with a focus on ensuring that climate financing is fully gender-responsive.
Both programs strive to democratize international financial and political entities at the intersection of climate change and economic development with a justice and human-rights based approach that safeguards in particular the rights of the earth, vulnerable groups, and women. This internship is most fitting for students interested in sustainable development and economic justice (particularly in the global south). Applicants should be self-motivated, independent workers.
Transatlantic Dialogue (Start: September 2017) 
Deadline: April 1, 2017
Transatlantic Dialogue interns will work with supervisors from our Democracy & Social Policy and Foreign & Security Policy programs. The Democracy and Social Policy program brings US and German policymakers and civil society organizations together to explore issues that challenge our democracies and the transatlantic relationship. The program's current activities focus on digital policy and immigration and integration policy. The Foreign and Security PolicyProgram explores contemporary issues in the foreign and security policy realm with a specific focus on transatlantic cooperation in Eastern Europe and the Middle East. Typical program formats for both programs include panel discussions, publication of policy briefs and articles, study tours, and delegation visits.
This internship is best suited for students with a background in international relations, public policy, or German and European politics. Applicants should have a good understanding of both the US and German political scenes and an interest in pressing policy challenges for both program areas. We are especially seeking applicants with an interest in preparing commentaries and analyses on topical issues of both program areas.
Climate and Energy (Start: tbd)
The Climate and Energy intern works closely with the Program Director for our Climate & Energy program. The Climate and Energy program focuses on facilitating an energy transition away from fossil fuels, such as coal, oil and gas, to a system largely based on renewable energies, such as wind and solar. This intern will also help develop social media content and assist in the supervision of office-wide communications projects (e.g. blogs, social media campaigns etc.).
This internship category best fits students who have a demonstrated interest in the energy and environmental fields and wish to tie these issues in with the communication strategy of the Heinrich Boell Foundation. Applicants should be creative, social media savvy and excited about experimenting with new means of digital communication.
How to Apply
To apply for an internship with HBS office, click here.
For more information, visit HBS Internships