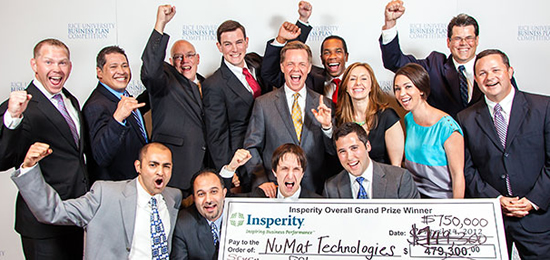 Rice Business Plan Competition 2017 (More than $1,500,000 in cash and in-kind prizes)
Deadline: February 10, 2017
The Rice Business Plan Competition is the world's richest and largest graduate-level student startup competition. It is hosted and organized by the Rice Alliance for Technology and Entrepreneurship, which is Rice University's internationally-recognized initiative devoted to the support of entrepreneurship, and the Jesse H. Jones Graduate School of Business. The goal of the RBPC is to provide the best overall educational and entrepreneurial experience of any business plan/new venture.
The competition is designed to give collegiate entrepreneurs a real-world experience to fine tune their business plans and elevator pitches to generate funding to successfully commercialize their product. Judges will evaluate the teams as real-world entrepreneurs soliciting start-up funds from early stage investors and venture capital firms.
Highlights of the Competition include:
Real-world opportunities to learn what's required to successfully launch a new business;
Chance to receive mentoring from investors and experienced entrepreneurs;
Scheduled opportunities to network with potential venture capitalists and other investors for three days;
High caliber of judges, all senior level investors, entrepreneurs and industry leaders;
Opportunities to receive individual feedback during three separate sessions;
2016: $1.7 Million + in prize money was awarded with all teams winning at least one cash award. The 2017 prizes will be updated by February 27, 2017.
Eligibility
This is a competition for graduate students, and at least one currently enrolled graduate student must be a member of the venture's startup management team, and must be part of the team that presents in the competition (competing team). A team with some undergraduates will be allowed to compete, and the undergraduates may participate fully. Competing team members may be from different disciplines and/or different universities. All graduate students, not just MBA candidates, are eligible to participate in the competition. This includes executive MBAs, MD candidates, JD candidates, other Masters Candidates, and PhD Candidates;
All ventures must be seeking outside equity capital, typically early stage venture investment or early stage angel investment. All ventures must be "for profit" entities;
The competition is for students currently enrolled on a full- or part-time basis (i.e., from July 2016 through June 2017). This includes students who graduated, or will graduate in August through December 2016. Students who graduated before July 2016 are not eligible to participate. Appropriate adjustments will be made for teams from non-US universities that have a different academic calendar;
The presenting (competing) team should include at least two current students and not exceed five current students. (At least two students must travel to Houston to compete and both must participate in the oral presentation of the business plan). Others involved in the venture (non-students) are welcome to travel to Rice with the competing student team, but are prohibited from participating in the presentations or Q&A sessions. More than five students can travel to Rice with the team, but only five students can serve as presenters. Faculty advisors or other team mentors are encouraged to attend.
See more eligibility requirements.
Application Process
To enter, the designated team leader should complete the online application. The Application consists of eligibility questions, a 5-page Executive Summary and a one-minute Video Pitch, and must be completed by 5:00 pm CST, Friday, February 10, 2017.
Note: Schools may submit an unlimited number of entries, but typically only 1-2 teams per school will be invited to compete. (Exceptions to this guideline may be made on a case-by-case basis.) In the case of multiple entries from the same university, RBPC will choose the team(s) to represent that university at the Competition.
For more information, visit Rice Business Plan Competition 2017.