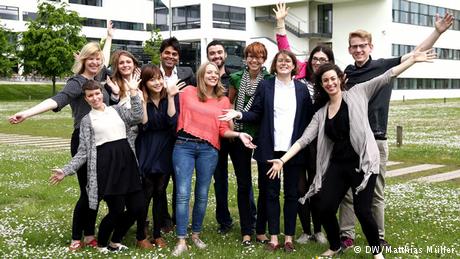 Deutsche Welle's International Journalism Traineeship 2017
Deadline: February 22, 2017
Deutsche Welle's newly-designed traineeship takes you around the world in just 18 months. Internships with the English and German editorial departments give you a chance to look into economic and cultural issues as well as news and sports. You will also be active in at least one of DW's other broadcast language departments such as the Chinese, Farsi or Spanish department, and support them according to your language skills.
Regardless of the language you are working in you will be part of the editorial teams right from day one, writing and producing reports and conducting interviews for television, radio and online. At the core of the training is a total of six months of theory and practice-oriented seminar blocks looking at everything from journalism basics and live reports to data-driven journalism and mobile reporting.
Traineeship
The traineeship includes:
18 months training;
Trainee salary;
International broadcaster in 30 languages;
Crossmedia: TV, online and radio;
Six months of seminar blocks;
Internships in Berlin and Bonn;
Placement with DW foreign bureau;
International multimedia projects;
Well-known media trainers.
Eligibility
Open to young people from all over the world interested in a comprehensive, exceptional quality journalism program with an international broadcaster;

Candidates should have journalism experience or be passionate about switching to journalism from technology/IT, economics or the sciences. They are looking for open-minded people full of creative ideas.
For the bilingual DW traineeship
Candidates should be
English native speakers with a good working knowledge of German;
German native speakers with an excellent working knowledge of English;
Native speakers of another DW program language with a good, working knowledge of both English and German.
Application Process
For more information, visit DW Journalism Traineeship.