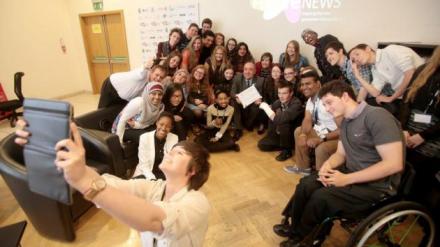 Future News Worldwide 2017 (Fully-Funded)
Deadline: February 28, 2017
Future News Worldwide is a unique partnership programme between the British Council and some of the world's leading media organisations. It aims to assist young people to develop a wide range of journalism skills and to establish the UK as a global leader in the nurturing of young journalists and media figures.
Underlying this, the programme will help build strong and lasting connections to the next generation of media leaders across the globe.
Eligibility
If you're a student who's passionate about journalism,whether you're a writer, blogger, vlogger, photographer, radio journalist or work in any other kind of media you can apply for a place at Future News Worldwide 2017 as long as you meet all of the eligibility requirements below.
To apply for a place at Future News Worldwide 2017 you must be:
Aged 18-25 on 1st July 2017
A registered university undergraduate student (or have graduated within the last year)
Dedicated to a career in journalism, in any form
Able to travel to the UK for the conference on 6th and 7th July 2017
A native speaker of English OR be able to speak English at the equivalent level of
Prizes/Awards
The prize consists of a place at the Future News Worldwide 2017 conference, and inclusion in the Future News Worldwide alumni network. This includes the following
Travel to and from Edinburgh for the dates for the Conference. This will be booked by an appointed British Council contact who will determine the method of transport used
Accommodation on 5, 6, 7 and 8 July
Catering on the following basis:

5 July – Dinner only
6 July – All meals
7 July – All meals
8 July – Breakfast only
9 July – No catering

Winning participants must attend both days of the Conference and partake in all programmed activities unless by prior agreement with the British Council.
Winning participants may opt to remain in Edinburgh for an additional day post-Conference (8 July). This is at their own cost. No cash or spending money will be made available to winning participants.
How to Apply
Complete online application form here. Application questions includes
A. Personal statement on your motivation for applying to the Future News Worldwide 2017
You should refer to the following in your answer:
Why you want to attend Future News Worldwide 2017
How you think you will benefit from Future News Worldwide 2017
How you will use this experience once you return home
Why you are passionate about journalism
Your personal/professional activities, interests, skills and experience
Limit: 500 words (written articles) OR 2 minutes (multi-media responses)
B. A reportage about a subject of your choice on your home country or country of residence
The topic may be political, environmental, technological or social. Please specify in your response which of these topics you are addressing.
Limit: 800 words (written articles) OR 3 minutes (multi-media responses)
For inquiries or any technical difficulties, e-mail [email protected].
For more information, visit the British Council