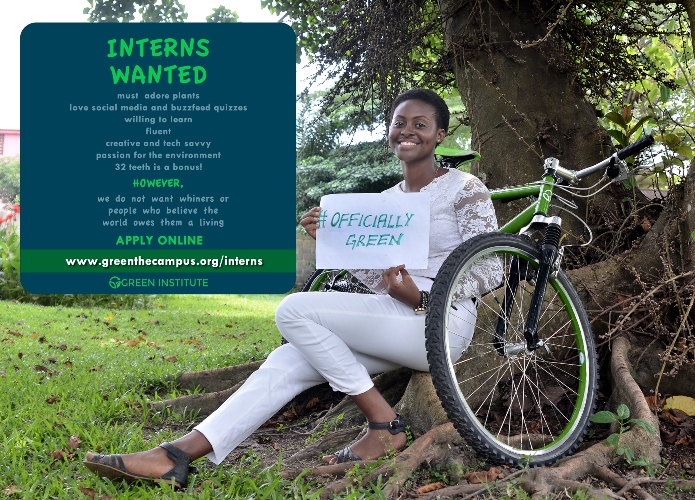 Apply to the Green Campus Initiative Internship 2017
Deadline: February 25, 2017
Green Campus Initiative Internship is a training programme designed to train students who are about to complete their studies and fresh graduates on environmental sustainability and sustainable practices. Trainees will be placed in sections related to their fields of expertise/interest under close supervision. Trainings will afford interns the opportunity to have a hands on experience as well as gain relevant skills that will be useful for their professional development. All majors or disciplines are welcome to apply.
Benefits
Gain practical experience suited to your field of study/interest;
Have free access to Green Series and Conferences;
Free access to Green Publications;
Free or subsidized trainings on green entrepreneurial opportunities;
Free Delicious Akara (beans cake) every

Thursday;

Fun team events and board game nights;
Paid travel expenses;
Bicycle- use during period of internship;
Access to UN Sustainable Development Network Events;
One-On-One Mentorship with an industry expert or celebrity;
Certificate of Participation
Eligibility
Applicants must be a student of an academic institution or graduates of not more than 2 years; and
Must be available to participate in the Green Campus Boot Camp.
Application Process
Applicants are required to submit the following before March 4:

Two letters of recommendation highlighting their potentials for growth and good behaviour;
 Resume;
60 Seconds Pitch

A selected number of applicants will be invited for in-person interview based on their aptitude test, recommendations and evaluations scores.  If selected, you'll receive an email two (2) weeks prior to the interview stage, inviting you to a panel of interviews made up of staff members and associates at the Green Institute;
Applicants outside of Nigeria would have their interview remotely via Skype or Zoom Call if selected.
Important Dates
Application Deadline: Febuary 25, 2017
Submission of materials Deadline: March 4, 2017
Interview: March 12 – 15, 2017
Boot Camp: March 20 – 24, 2017
Internship Period: April 1, 2017
For more information, visit Green Campus Initiative Internship.