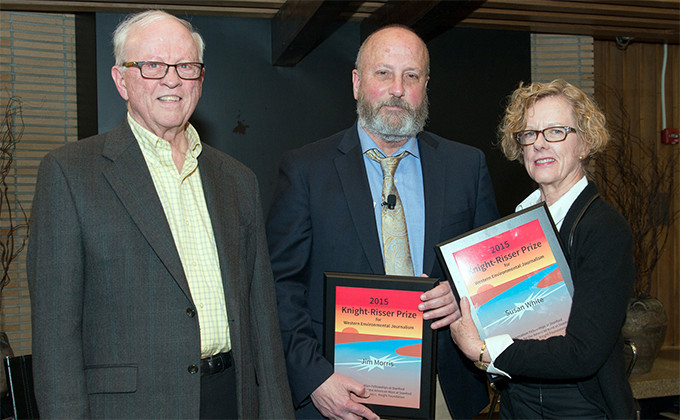 Knight-Risser Prize for Western Environmental Journalism 2017
Deadline: March 15, 2017
The Knight-Risser Prize for Western Environmental Journalism recognizes the best environmental reporting on the North American West — from Canada through the United States to Mexico. The annual Knight-Risser Prize Symposium brings journalists, researchers, scholars, and policy-makers together with public audiences to explore new ways to ensure that sophisticated environmental reporting thrives in the West.
The Knight-Risser prize places a premium on stories that expose undiscovered or covered-up problems, explain detailed solutions in ways that can be put to use, and help readers understand the broader significance of the issues being covered, beyond the immediate details of the stories at hand.
Eligibility
Open to journalists working for U.S., Canadian or Mexican newspapers, magazines, television, radio, and online sites accessible to the general public are eligible to apply, as are freelancers;
Organizers cannot consider entries from publications or programs connected to:

Government agencies
Advocacy organizations
Business or trade groups

Entries must be predominantly about an environmental subject occurring in or affecting the North American West, and must have been published, broadcast or posted during the calendar year of the current prize. Series that began in one year and ended in another are eligible but may be entered only once.
Judging Criteria
The judges put a premium on journalism with some or all of the following attributes, such as stories that:
Report on, investigate, and explain complicated issues;
Uncover hidden problems or misdeeds;
Carry wider implications for the North American West in general;
Result in a tangible impact in Western communities;
Demonstrate meaningful innovation in environmental journalism, whether through new techniques like crowd-sourcing, use of social media, data-driven reporting, data visualization, multimedia or other interactivity, or work that represents innovative models of collaboration, reporting, or financing great Western environmental journalism.
Application Process
Fill the online entry form.
For more information, visit Knight-Risser Prize.