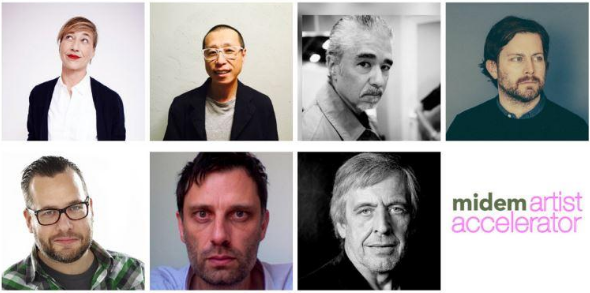 Apply to the Midem Artist Accelerator Programme 2017
Deadline: February 5, 2017
The Midem Artist Accelerator is an exclusive programme for artists and their entourages. Designed to support managers, agents, labels and publishers as they look to grow their artists' profiles globally, it's the opportunity to promote 9 upcoming international talents selected by an Artistic Committee.
The Midem Artist Accelerator 360 programme features a range of curated networking opportunities, as well as learning and coaching sessions with leaders of the international music industry. Plus, the 9 finalists will have the opportunity to play a live set at Midem and have their song featured on Midem's communications, as well as on the official Midem 2017 vinyl compilation.
Benefits
Free access to the four action-packed days at Midem;
A live showcase at Midem;
The opportunity to meet and pitch to leading music supervisors and senior executives during the Global Sync & Brands Summit (in association with A&R Worldwide/Musexpo);
One-to-one sessions with our experts in publishing, marketing, strategy, legal, social media, etc;
Mentoring and workshop sessions with members of the Artistic Committee and selected partners;
Free legal service by IAEL (International Association of Entertainment Lawyers);
Artist/band's song on the official Midem 2017 vinyl compilation;
Promotion of the artist/band across all Midem communication channels;
Access to the Midem VIP Club.
Eligibility
Be 18 years old or over;
Be an individual artist or a band;
Have a dedicated professional supporting team (manager, label, agent etc.);
Demonstrate media coverage and a solid presence on social networks;
Have a recording or publishing deal;
Have a minimum of 5 official live performances booked between 2016 – 2017;
Present a career development strategy (including export) with concrete short and long term objectives.
Application Process
Key Dates
Nov 28, 2016: Call for entries open
Feb 5, 2017: Deadline for submissions
End of March: Finalists announced
March 28 – April 21, 2017: Midem Community Vote (The TOP finalists will play at the Opening Party)
End of April: Winners of "The Midem Community Vote" and "The Jury's Coup de Coeur" announced
June 6- 9, 2017: Midem.
For more information, visit Midem Artist Accelerator Programme.