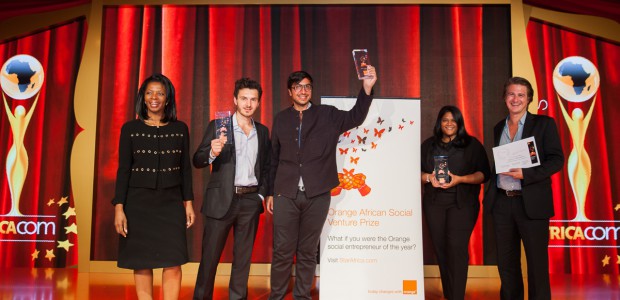 Orange Social Venture Prize Africa & Middle East 2017
Deadline: June 6, 2017
Submit a presentation of your project to enter the Orange Social Venture Prize 2017. The contest aims to reward the best innovative and socially responsible business project in Africa and the Middle East. This 7th edition unfolds in two phases: first the candidates participate to a national competition, then an international jury gives a grand prize to the best national winners. Each time, the viewers have a chance to add a name to the shortlist through a voting process. Don't wait anymore, go for it, apply!
Prize
1st Grand Prize: €25,000
2nd Grand Prize: €15,000
3rd Grand Prize: €10,000
Orange experts provide the winners with customised digital mentoring and advice. These international awards complete the various prizes delivered locally to national winners.
Eligibility
Participation in the Competition is open to natural persons aged over 21 years at the date of the initiation of the Competition;
The Project must concern a territory or a geographical market containing at least one country from the African continent and the Middle-East region in which the Orange group is present. The countries concerned are: Botswana, Cameroon, Ivory Coast, Egypt, Guinea Bissau, Guinea Conakry, Madagascar, Mali, Morocco, Niger, Liberia, the Central African Republic, the Democratic Republic of the Congo, Senegal, Tunisia, Jordan, Liberia and Burkina-Faso;
The Project must involve Information and Communications Technologies and have a societal impact
Application Process
To enter the contest, you need to fill in the registration form. You need to provide a picture (logo, photo, etc.), the business plan in a PDF file (which will not be published) and a small public description of the project.
Beware: in order to validate your registration, you have to submit a presentation of your project. In your file you must answer to the elements below:
Synthetically present the project (1000 to 2000 characters)
Analyze the market
Explain why the project answers to the identified need
Introduce the management team
Present the financial forecasts
Assess the societal and/or environmental impact
Important Dates
Registration: February 28 – June 6, 2017
National Vote: July 7 – July 17, 2017
International Vote: September 25 – October 3, 2017
For more information, visit Orange Social Venture Prize 2017.