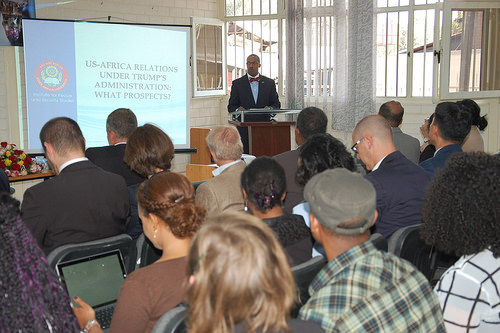 IPSS Youth4AfSol Conference 2017 in Addis Ababa (Fully Funded)
Deadline: March 10, 2017
The Institute for Peace and Security Studies (IPSS) is looking to create such a space for young Africans through its own Youth4AfSol event. With a focus on peace and security, this platform will be solely dedicated to giving an opportunity for young Africans to share their ideas in shaping African solutions to Africa's problems.
Youth4Afsol is grounded in the understanding that only locally generated ideas that connect Africa to the global community, and one led by Africa's youth, can ensure sustainable change. Through bringing together bright visionaries from across Africa, IPSS aims to champion the cause of young people, who lie at the core of African solutions.
Costs and Benefits
Flights to Addis Ababa and accommodation will be covered for selected participants;
Selected participants will be given approximately 15 minutes to speak and present their idea of an African solution to an African problem in front of a live audience at Addis Ababa University;
The highlights of the presentations will be displayed at the 6th Tana Forum, an annual security conference featuring Heads of State, prominent African figures, and representatives from the private sector and civil society;
A certificate of participation will be awarded to all participants.
Eligibility
Applicants should be between the ages of 21-35 at the time of application
Application Process
Download the application form and send it after completion to [email protected]
Submit a 1,000-word essay on one of the following themes:

African youth, migration and poverty
Natural resource governance in Africa2
Citizen participation in governance
Peace-building and post-conflict reconstruction in Africa
The challenges of terrorism and violent extremism
State building in Africa

If you have other thematic ideas that fall outside of the following themes, please communicate with the organizers and they will let you know if the proposed theme is acceptable.
Submit a recommendation letter from a supervisor, or from a lecturer if in school;
Submit a resume/CV (maximum 3 pages);
Anchor ideas in "African solutions to Africa's problems" that are innovative, unique and practical.
Important Dates
March 10, 2017 – Youth4AfSol application closes
March 13, 2017 – Shortlisted applicants will be notified
March 14-15, 2017 – Interview of shortlisted applicants
March 16- 17, 2017 – Selected participants will be notified
March 31, 2017 – Youth4Afsol event date in Addis Ababa University
For more information, visit Youth4AfSol Conference.