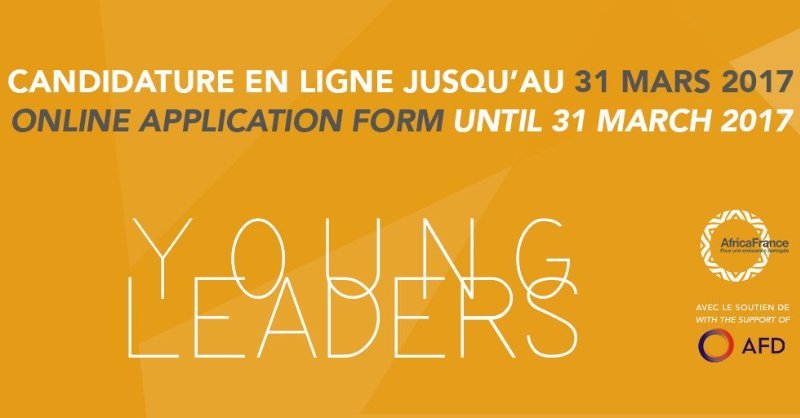 AfricaFrance Young Leaders Programme 2017 in Paris and Africa (Fully-funded)
Deadline: March 31, 2017
AfricaFrance for Shared Growth in association with the French Development Agency are proud to announce the launch of applications for the first ever 2017 AfricaFrance Young Leaders Programme. The Young Leaders program aims to identify, unite, value the very high potential African and French in a spirit of "promotion" of exception. The promotion will bring together young African and French leaders in two sessions in France and Africa with the aim of forging personal ties and proposing a common reflection on global issues.
Are you 28 to 38, a French or do you come from an African country? Do you contribute to building inclusive, sustainable and shared growth between the African continent and France? You demonstrate leadership, commitment and involvement that has an impact on your community or country? Then this programme is for you.
Benefits
All expenses (including visas, transport and accommodation) will be covered.
Eligibility
Candidates must be between the ages of 28 and 38 on 1st January 2017
Candidates must be French or must come from an African country
Anglophone candidates require fluency in French as well as the ability to hold a conversation
At the time of the application, candidates must be working in companies or civil society in all fields of economic and social life (manufacturing, services, both cultural and societal) (the position of President, Chairman of the Board, Chief Executive Officer, Managing Director, Managing Partner or equivalent)
They must demonstrate leadership, commitment and sustainable engagement (5 to 15 years) that has had an impact on their community or their country
Candidates must also be able to travel and must make themselves available for the programme's two sessions in July 2017 and October 2017
They must demonstrate leadership potential that would enable them to reach the highest level within their sphere of activity
They must demonstrate the requisite skills, in addition to an ability and a willingness to express themselves at the highest level. They must also be capable of making an oral presentation relating to their candidacy
Candidates must show a willingness and a capacity to participate in strengthening the Franco-African relationship in their particular sphere of activity
They must demonstrate the capacity to fully invest themselves in the programme as part of the network of previous Young Leaders
Application
The form, duly completed and signed. (Form is on page 7)
Curriculum Vitae
Covering letter
A letter presenting their professional and personal project
A one-page essay on the theme of "Coming together: for a new generation of Africa-France leaders"
3 letters of recommendation and full details for their references
Copies of their most recent qualifications
Certificates of roles and publications (KBIS and/or Official Journal) referring to the roles
Balance sheets for 2015 and 2016
One form of valid and in-date ID showing the candidate's nationality
For more information, visit AfricaFrance Young Leaders Programme.