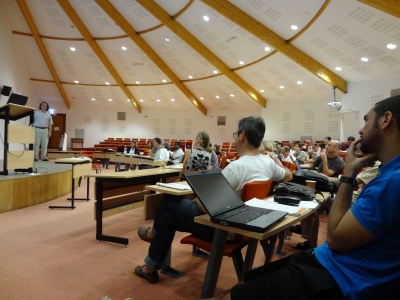 COTE Summer School for PhD Students 2017
Deadline: April 9, 2017
Apply now for the COTE Summer School 2017 in Bordeaux, France. The Summer School is part of the COTE Cluster of Excellence training programme and gathers PhD students in environmental sciences, each specialised in different disciplines such as ecology, chemistry, biology and even sociology. This year, the topic is "Weak signals and emerging issues in ecological transition" and will be held in Bordeaux from July 03-07, 2017. Through talks, field trips and round tables with international experts on integrative ecology, the programme will provide a comprehensive and multidisciplinary approach on the definition, detection and role of weak signals and emerging issues in the ecological transition.
Theme and Programme
Climate-induced ecological changes as well as changes in consumption patterns have led to emerging issues. These often manifest before full development as weak signals, which can reveal important trends within ecosystems. However, it is often difficult to distinguish them statistically from ambient noise, or from random fluctuations of well-known signals. The COTE Summer School will show that scientists have more and more tools to monitor the planet. Its programme will cover several aspects of weak signals and emerging issues with presentations on new detectable substances in the environment, environmental reporting, ecological governance and political change for transition, weak signals and measurement techniques in marine, vineyard, forest and river ecosystems, and even on a paradigm shift related to the role of cloud microorganisms in atmospheric processes.
Cost
The course is free of charge and includes accommodation and meals;
Travel expenses must be covered by the participants. Mobility grants are available on demand (see registration terms available here).
Eligibility
Candidates must be PhD students;
The Summer School will be held in English and the knowledge of French is not required.
Application Process
Complete the application form, upload a CV, a cover letter and a short letter of support from your supervisor in the online application form;
If you also apply for a mobility grant, please add a letter justifying your request. All documents have to be merged into a single PDF file.
For more information, visit COTE Summer School 2017.