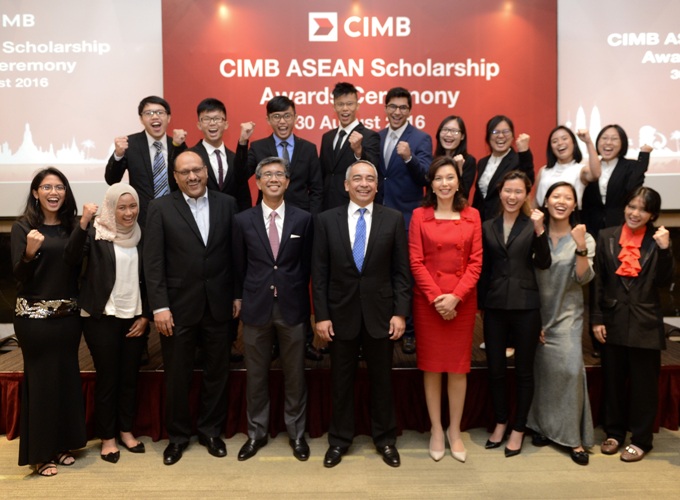 Apply for the CIMB ASEAN Scholarship 2017
Deadline: April 7, 2017
CIMB Group is inviting applications for the CIMB ASEAN Scholarship, open to citizens of five ASEAN countries i.e. Malaysia, Indonesia, Singapore, Thailand and Cambodia, which are also CIMB's core operating countries. The scholarship is for full time undergraduate studies at any reputable university in the world. CIMB Group will give out 20 scholarships in 2017. A unique value proposition of this scholarship is that scholars, throughout their undergraduate studies will be exposed to programmes and initiatives that will not only help them in their studies, but also help prepare them to be career-ready with CIMB.
Over and above the financial support, scholarship recipients will:
be paired with a banker-buddy working in CIMB
enjoy networking opportunities with CIMB senior management
participate in CIMB ASEAN-related programmes
be involved in CIMB's corporate social responsibility initiatives
have opportunities to do research at CIMB
have internship opportunities
be employed by CIMB via The Complete Banker Programme
Scholarship
The CIMB ASEAN Scholarship is a full scholarship covering all academic fees including registration, tuition and examination, book allowance, as well as other expenses such as accommodation, airfare, travel documents and other related expenses.
Eligibility
To apply for the CIMB ASEAN Scholarship, you must:
Be a citizen of one of these countries: Malaysia, Indonesia, Singapore, Thailand or Cambodia;
Be aged 24 or below;
Academic excellence at pre-university exams/ assessments; the assessments may be country-specific/ local or foreign/ international. Indicative only: 3 A-Levels that include two distinctions;
Have applied for undergraduate studies at a reputable university anywhere in the world. You must have an unconditional offer from the university by the time the scholarship is awarded;
Have excellent results at the undergraduate level if you are already in your first or second year of university;
Not a holder of any other scholarship or grants that come with contractual obligation on the part of the applicant.
Selection Process and Criteria
Stage 1: All applications will be screened to ensure that all eligibility criteria are met
Stage 2: Shortlisted applicants will go through online assessments
Stage 3: Shortlisted applicants will be interviewed by a panel of interviewers
Stage 4: Shortlisted applicants will undergo a 2-day-1-night boot camp
Stage 5: Shortlisted applicants will undergo a final interview with the top management of CIMB Group.
The selection of suitable candidates for the CIMB ASEAN Scholarship will be based primarily on the following:
Excellent results at pre-university exams/ assessments (and with an unconditional offer to a good university at the point of award)
Excellent results in university exams, if you have enrolled
Track record of achievements in extra-curricular activities, and other personal achievements
Results of the online assessments, boot camp and interviews that reveal leadership and teamwork qualities, interpersonal skills, high energy level, and personal attributes such as a strong desire to learn and succeed.
Application Process
The information you provide will only be used for the purpose of evaluating your application for the CIMB ASEAN Scholarship. Do not submit copies of certificates, offer letter, commendation letters or any other document at this moment. Only applicants who are shortlisted for the next round of assessment will be required to produce the original copies of relevant documents.
For more information, visit CIMB ASEAN Scholarship 2017.