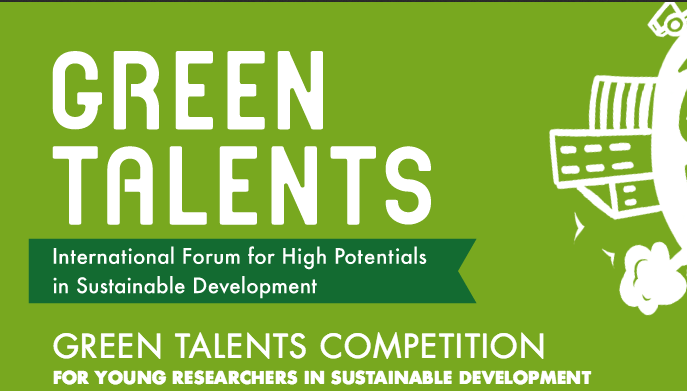 Apply for the Green Talents Competition 2017
Deadline: May 23, 2017
Are you an up-and-coming scientist with innovative ideas and a strong focus on sustainable development? Does your research have the potential to change the world? You are hereby challenged to convince a high-ranking expert jury and become one of the 25 Green Talents 2017! The award is open to all disciplines as long as it is related to sustainable development. In 2017 the award has a focus on "Sustainable Production and Consumption" and this year's Science Forum, taking place in October, will integrate sustainability hot spots in Germany related to this theme. Nevertheless, applications are highly welcome from all (not connected) research areas.
The German Federal Ministry of Education and Research (BMBF) hosts the prestigious Green Talents – International Forum for High Potentials in Sustainable Development to promote the international exchange of innovative green ideas. The award, under the patronage of Minister Professor Johanna Wanka, honours young researchers each year. The winners come from numerous countries and scientific disciplines and are recognised for their outstanding achievements in making our societies more sustainable. Selected by a high-ranking jury of German experts the award-winners are granted unique access to the country's research elite.
Eligibility
Before you start please make sure, that you do not hold a German passport or live in Germany;
Applicants for the "Green Talents" competition must be enrolled in a Masters or a PhD programme in any field related to sustainable development or must have completed their degree with significantly above-average grades in a similar programme no more than three years before the end of the application process.
Application Process
Please use the Online Tool to submit your application;
You will be asked to upload a current letter of recommendation or expert opinion focusing on your career as a scientist and activities to date (letter must be in English and should not be more than 6 months old);
You will furthermore be requested to provide your latest academic qualification transcripts as well as proof of your English language skills.
For more information, visit Green Talents Competition 2017.