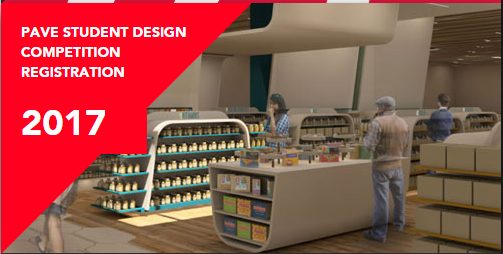 PAVE Student Design Competition 2017
Deadline: October 31, 2017
The PAVE Student Design Challenge is an annual competition geared toward college-level students involved in retail planning, visual merchandising, and branding programs. The PAVE Design Challenge invites you to re-invent the experience of Chick-fil-A on a college campus. The goal is to develop concepts that expand the platforms and expressions in which Chick-fil-A serves a college campus. Explore new ways of creating an experience that is more than just a transaction of food. Expectations include:
Pushing the envelope of what the current experience is today
Shaping the future and capturing possibilities
Expanding the way we engage our guests with a new portfolio of experiences
Providing powerful thought and design that is a collaboration or combination of design fields – architecture, interior design, visual merchandising and graphic design.
Traditionally, the PAVE competition is divided into two groups; Store Design and Visual Merchandising. This year, they are integrating the disciplines into a single challenge and inviting students to consider the full spatial context and leverage their primary area of design interest and/or collaborate with other design disciplines. Entry teams of two students will be accepted as well as individual student entries. If a team of two is selected as a winner, both students will be recognized.
Prizes
First Place: $7,500
Second Place: $5,000
Third Place: $2,500
Honourable Mention: $1,000
Winners will also receive a travel stipend to be honoured at the 2017 PAVE Gala on December 6, 2017 in New York City.
Eligibility
The competition is open to undergraduate students only;
Students may only enter as a team of 2 or submit an individual entry;
The student's name(s) and school name(s) are not to be visible anywhere on the presentation pages or cover;
Each entry must include an entry form and disclaimer clipped to the back of the entry;
Each entrant must complete and submit an online entry form;
Students are advised to keep a copy of their entries, as entries will not be returned.
Application Process
Each entry should be submitted in an 8-1/2 x 14-inch format, not to exceed 14 single sided pages (cover page is not included in the page count);
The design may be hand-drawn, rendered, photographic, and/or computer-generated;
Students must also submit a copy of their design booklet in a PDF format on a thumb drive;
The submission should address the general requirements above at a scale and composition determined by the student. A written concept statement limited to two paragraphs must highlight the unique approach to the concept and the rationale for design decisions.
For more information, read FAQ or visit PAVE Student Design Competition.