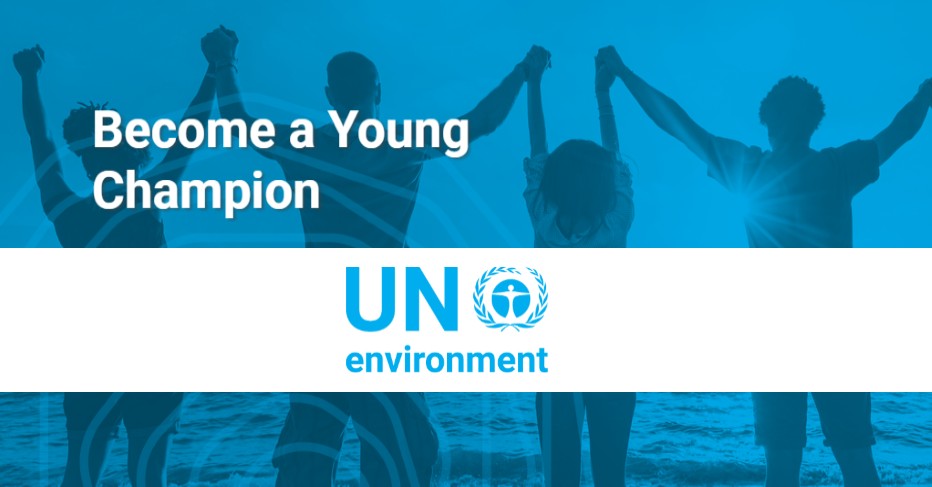 UNEP Young Champions of the Earth Competition 2017
Deadline: June 18, 2017
Apply now for the UNEP Young Champions of the Earth Competition 2017. Young Champions of the Earth is a forward-looking prize designed to breathe life into the ambitions of brilliant young environmentalists. If you have a big idea to protect or restore the environment; if you have a vision for a more sustainable future; if you have a strong track record of instigating change; if you are unafraid of failure; and if you believe in a bright future for our planet, then you just might have what it takes to become a Young Champion of the Earth.
Each year, six young people – one from each global region – will be named Young Champions of the Earth. These winners receive seed funding, intensive training, and tailored mentorship to help them bring their big environmental ideas to life. Will you be one of our 2017 winners? If you win, you will be expected to implement your big idea and keep updates on your progress by producing videos and blogs that we will share on the Young Champions website.
Young Champions of the Earth is a global stage for young people to showcase technological inventions and innovative business models that improve our planet's health. The initiative aims to counter the negative discourse on the environment and inspire the next generation of environmental leaders. Young Champions of the Earth is sponsored by Covestro, one of the world's leading polymer companies and a strong proponent of innovation for environmental sustainability.
Benefits
Each winner receives the following:
US$15,000 in seed funding;
Attendance at the United Nations Environment Assembly in Nairobi, December 2017, and the United Nations General Assembly in New York, September 2018 (all expenses paid);
An introduction to over 100 environment ministers at the Champions of the Earth Gala Dinner;
Publicity and recognition through online and global media;
Access to high-profile mentors and customized training in communications, project planning, financial management, etc.
Participation in an intensive, one-week entrepreneurship course in Europe in the first quarter of 2018 (all expenses paid).
The Young Champions will be required to contribute one blog post and one video per month between December 2017 and September 2018, so that the public can follow their implementation journeys on the Young Champions website.
Eligibility 
To be eligible to apply for the 2017 Young Champions of the Earth Competition, you must be between the ages of 18 and 30 on November 15, 2017. That is, your birthdate must fall between 1 January 1987 and 15 November 1999 (inclusive);
Only one entry is allowed per person;
Employees of Covestro, a major Competition sponsor, any other Competition sponsors, and the United Nations Environment Programme and the immediate family members of such employees are not eligible to participate in the Competition, either as applicants or as sponsors. The term "immediate family" of such employees includes spouses, siblings, parents, children, grandparents and grandchildren, whether as "in-laws" or by current or past marriage(s), remarriage(s), adoption, co-habitation or other family extension, and any other persons residing at the same household as such employees, whether or not they are related to them.
Application Process
To apply, complete Section 1 of the application form, providing a valid email address of your sponsor. Your sponsor will then receive an email inviting him or her to complete Section 2 by June 18, 2017;
A sponsor is an individual who, by completing Section 2 of the application form, vouches for the viability of your big idea and your ability to successfully implement it. He or she may sponsor only one application per year and assumes no responsibility (financial or otherwise) for you or your proposals in the context of this competition.
Your sponsor must fall into one of the following categories:
Senior staff person at a registered and reputable environmental or youth-focused organization;
University professor; or
Senior staff person at a business that has received third party recognition for its sustainability efforts (e.g. through prizes, media coverage, affiliation with initiatives like the UN Global Compact, or membership of the World Business Council for Sustainable Development).
For more information, visit Young Champions of the Earth.