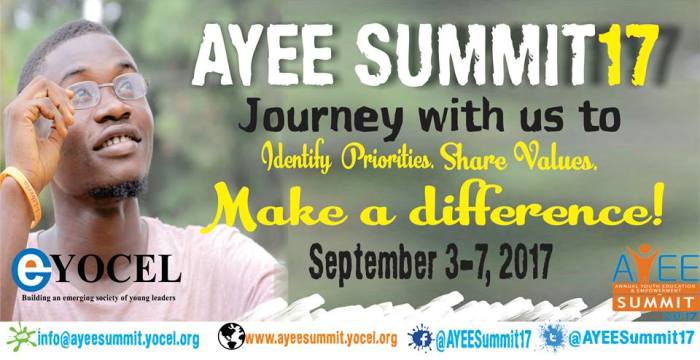 Annual Youth Education and Empowerment Summit 2017 (Partially Funded)
Deadline: July 31, 2017
The Youth Coalition for Education Liberia (YOCEL) is convening the second Annual Youth Education and Empowerment Summit from September 3-7, 2017 in Monrovia, Liberia. The theme for this year's Summit is "Strengthening Collaboration among Youth and Women for Peace Building and Inclusiveness of Electoral Process."
The Summit is a youth focused event on quality education, ECD, participation, engagement and empowerment, gathering young leaders, edupreneurs, entrepreneurs and innovators from across Africa and the rest of the world to discuss rising issues in education and youth development, develop strategies to address the challenges and identify the opportunities that can benefit young people. The Summit contributes seeks to contribute to achieving the Sustainable Development Goals 4, 10 and 17 which provide for quality education, reducing inequalities and partnership for the goals. The immediate outcome of the Summit is for delegates to develop a joint resolution that can be used to engage decision makers post-Summit.
This year, the Summit is organized in collaboration with the Ministry of Education, Ministry of Youth & Sports Republic of Liberia and Volunteers Hub Liberia with sponsorship from UNDP /EU Liberia through the European Union Joint Elections Project, IBIS-Liberia, Pro-designs and UNICEF Liberia which seeks to build the capacity of young people in research, policy, entrepreneurship and ECD.
Scholarship
There is a registration fees of $100 USD but through sponsored organizations, there is a offering of 50 scholarships to passionate young leaders.
Benefits
Accommodation, Feeding and Local Transportation will be covered by the organizers (International delegates will have to undertake the cost of travelling to and from Liberia);
Access to all Summit activities including networking, sightseeing and cultural fiesta;
An opportunity to become member of YOCEL Youth Advisory Board on Education (YAGE);
Benefit from different funding opportunities presented by development partners across Africa;
Conference materials including customized t-shirt, folder, notepad, pen, cap, and wrist band.
During the Summit, delegates will be arranged into committees to engage into panel discussions, debates, research and participate in workshops to strengthen their capacities. The Summit will be concluded with committees drafting a resolution that will be used for post-Summit engagements.
Eligibility
Be between 18-35 years old in September 2017;
Able to fund your Travel to and from Monrovia, Liberia;
Be a non-Liberian Citizen (example: Ghanaian, Nigerian etc), this scholarship is available only to youth who are not Liberian and have the desire to join this summit;
Demonstrate experience and strong capacity in education, entrepreneurship, Early Childhood Development (ECD) & youth development in general;
Ability to attend the Summit in its entirety from September 3-7, 2017 and be fluent in both oral and written English (all elements of the program will be conducted in English)
Application Process
Complete the online application form
For more information, visit Annual Youth Education and Empowerment Summit.