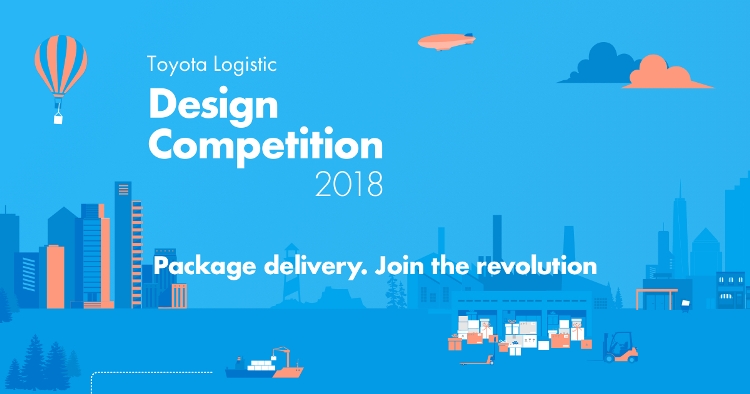 Enter the Toyota Logistic Design Competition 2018
Deadline: October 22, 2017
For the third time Toyota Material Handling Europe launches a Logistic Design Competition. For the 2018 Logistic Design Competition, Toyota is challenging university students, and those who have recently graduated, to revolutionise the future of package handling and the logistics process. Toyota is searching for package delivery concepts. The concept should solve the problem, it's yours to design. They challenge you to think about the possibilities of direct delivery to customers, abandoning the idea of the traditional supply chain. To think about how you would optimise the last mile each package delivers to the end customer. And to come up with a logistic solution that is fast, sustainable and most of all: revolutionary. This is your time to make your mark on the package delivery industry and win some cash prizes!
Around 25 million packages are delivered in Europe every day and current delivery processes are nearing peak efficiency, with little room left to improve. Now is the time for a logistics revolution! Share your innovative and sustainable solution for improving the last mile of the package delivery process. Unleash your imagination and submit your idea, complete with sketches for the future of package delivery systems by October 22, 2017. The best solution will win a prize of 5,000 EUR!
Prizes
The best solutions will be awarded with cash prizes:

First prize: 5,000 EUR
Second prize: 3,000 EUR
Third prize: 2,000 EUR

Public voting will also award an exceptional idea with a special People's Choice Award of 1,000 EUR;

Finalists will be invited to the prize ceremony at the CeMAT fair in Hannover, Germany held on April 23, 2018. All travel expenses will be covered by Toyota.

Additionally, all winners will have the opportunity to apply for a six-month paid internship at Toyota Material Handling Europe Design Center.
Eligibility
This competition is open to university design students and recent graduates (2017) of an accredited European university. Applicants can apply individually or in teams of up to three members. The organizers encourage multi-disciplinary teams. When competing as a team pick a team leader who will be responsible for the registration and all communication regarding this challenge;
Although the competition is focused on industrial design, product design and transportation design, students with a background in business, fashion, engineering, architecture etc. are also encouraged to submit their work;
Only participants who belong to an accredited undergraduate or graduate university programme, or recent graduates (2017), are eligible to participate in the competition. Proof of enrollment (or graduation) will be requested of all finalists.
Judging Criteria
Each entry will be judged based on the following criteria:
How well it reflects the Toyota heritage and brand
Aesthetics
Sensitivity to the environment
Safety and user-friendliness
Innovation
Realistic to implement
Application Process

Register yourself or your team here
Submit your design concept online at tldc.toyota-forklifts.eu
Submissions should consist of the following:

Concept title
A short description of the concept (max 150 words)
A presentation of the concept in PDF format
Photo of yourself or team (viewable to the public)
Key Dates
Competition Launch: April 5, 2017
Competition Deadline: October 22, 2017
Finalists Announced: December – February 26, 2018
Voting Opens: March 14 – 28, 2018
Winners Announced: April 23, 2018
For more information, visit Toyota Logistic Design Competition.