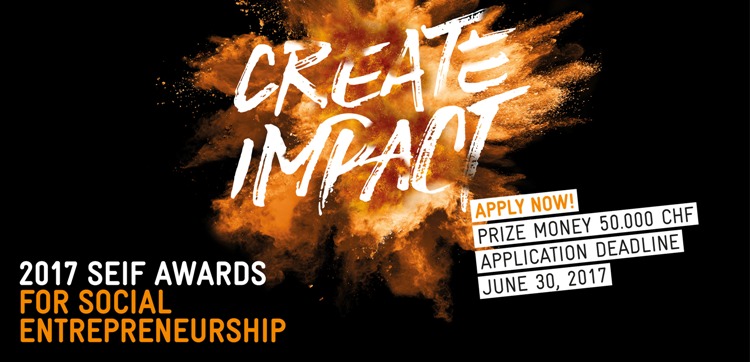 Seif Awards For Social Entrepreneurship 2017 (Win CHF 10,000 Prize)
Deadline: June 30, 2017
The Social Entrepreneurship Impact & Finance (seif) Awards for Social Entrepreneurship rewards ventures, applying innovative business ideas to current social and/or environmental problems. seif supports and promotes individuals or teams seeking to apply innovative business ideas to respond to current social and/or environmental problems, otherwise known as "social enterprises". They do so by offering companies programs, consulting, training and general support according to their needs and stage of development. To contribute to the professionalism of the social entrepreneurship community and build up the capacity of the social enterprises, seif also act as a bridge between stakeholders by connecting actors from the financial sector, corporate world, universities, foundations and others to create the highest social impact possible.
In its 7th edition, the Seif Awards 2017 aims to follow on its tradition to celebrate and promote innovation drivers for change at national and international level. seif seeks to support companies with an impact in society by providing them with the right tools and networks through their Awards, seminars, coaching and mentoring programs.
Benefits
You can win CHF 10,000 for your enterprise;
The awardees as well as the finalists receive increased visibility by the public both through media presence as well as the publication in the seif Awards brochure 2017;
The seif Awards have a highly recognised selection process and can be used as a quality label of your enterprise before foundations, corporate partners and potential impact investors;
Opportunity to increase your network and meet potential impact investors.
Eligibility
Social enterprises from all over Europe and in all sectors are invited to apply.
Application Process
If you are a social entrepreneur interested in taking part in the competition, please get your business plan ready (about 15-25 pages either in English or German) and submit your application until June 30, 2017;
You can save and resume your application anytime, but please don't forget to submit it in no longer than 28 days after you first initiated the application process. Otherwise the link will expire. If you have any problems submitting the application, please contact [email protected]
For more information, see FAQ or visit Seif Awards for Social Entrepreneurship.