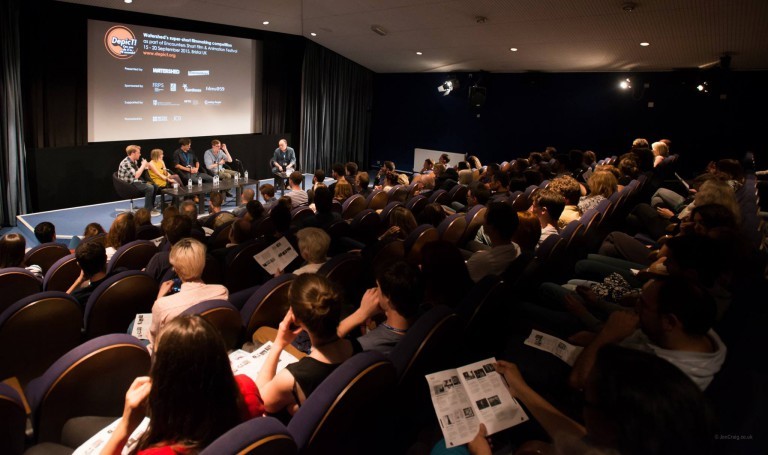 Enter the DepicT! Short Film Competition 2017
Deadline: July 3, 2017
Submit entries for the DepicT! Short Film Competition 2017. DepicT! is Watershed's international short film competition that, since its creation by Brief Encounters in 1998, has been challenging filmmakers to create 90 second ultra-short masterpieces. The focus is on uncovering emerging international filmmaking talent, which shows originality, imagination and the ability to engage in just a minute and a half.
Depict has been uncovering new filmmaking talent for eighteen years –showing incredible originality, fantastic imagination and a minute and a half of pure entertainment. It doesn't matter what your budget is or what genre you're working in, and its open to anyone from anywhere in the world. However, your film must be 90 seconds or less in duration. Watershed's super-short filmmaking competition is part of Encounters Short Film & Animation Festival.
Prizes
Main DepicT! 2017 Award: £1500 cash + Lifetime membership to Shooting People
DepicT! Royal Photographic Society Cinematography Award: £1000 cash
DepicT! 2017 British Special Mention Award: A special package of support which will both promote the winning 90-second film and further develop the filmmaker's skills including:

A tailored package of industry support from BAFTA, including a mentoring session and 6 month's free access to BAFTA's Learning & Events programme
A place on a short course at the National Film and Television School in 2016, subject to availability.
Lifetime membership to Shooting People, plus e-mentoring from senior SP members
Note: It's a great opportunity but be aware that it does require some commitment on your part. For teams of filmmakers, note that unfortunately, we can only offer the full package of support outlined above for one of the filmmakers involved in your film

DepicT! Random Acts Special Mention Award: A unique chance to be featured on Channel 4's Random Acts website and pitch for a new Random Acts commission.
Shooting People Audience Award: Lifetime membership to Shooting People
Eligibility
Organizers no longer accept postal entries. Only films submitted online will be accepted;
The duration of your film(s) must not exceed 90 seconds including titles and credits;
DepicT! is open to short films of all production techniques, including animation, documentary, drama, experimental or artist film and hybrid work. Advertisements are not accepted;
Only films completed since September 2016 may be submitted. Whilst they do not have a premiere policy, organizers positively encourage entries made specifically for DepicT!;
The maximum number of entries per individual is ten;
The primary contact completing the submission process must be authorised to submit the film(s) and must have obtained necessary permissions for the inclusion of copyrighted music and/or images within the films;
If the original language is not English, please ensure that the film includes English subtitles;
If your film(s) is /are shortlisted, you will be asked to send in a higher resolution version*. Please note that only the director(s) will be credited on the website and any other promotional material. In the case of shortlisted and/or winning co-directors, multiple prizes may be granted at the discretion of the organisers;
The DepicT! British Special Mention Award is open to UK productions only. Films are only eligible if they have a substantial British contribution in the following areas: director, producer, writer, principal cast and crew, production company, finance. To indicate your film's eligibility for this award, please select "UK" as the country of production in the registration process.
Shortlisted Film Requirement
If your film(s) is/are shortlisted, you will be asked to promptly send in a higher resolution version of your film for public screening on depict.org, Watershed social media channels and at the 23rd Encounters Short Film & Animation Festival (September 19-24, 2017). You will also need to supply publicity stills, a synopsis and a bio.
The film file should be supplied at its original resolution, frame rate and aspect ratio, with no letterboxing or pillar boxing;
Audio should be normalised;
The film file type should be one that can be opened in Apple QuickTime Player. Image sequences are also acceptable if supplied with synced audio and details of the frame rate;
A DV-PAL format version of the film must also be supplied, at 4×3 or 4×3 widescreen anamorphic. If the film is not 4×3 or 16×9, letterboxing or pillarboxing is acceptable. Audio should be normalised on this version too, and there should also be one second of black before and after the film;
Video DVDs are not accepted.
 Application Process
In order to apply, your entry needs to be submitted online.
For more information please visit the DepicT! Short Film Competition 2017.