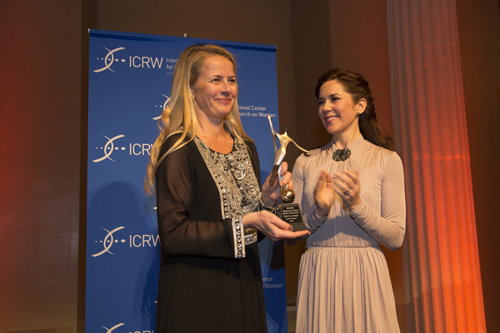 Mariam K. Chamberlain Dissertation Award 2017/18
Deadline: May 31, 2017
Through a generous $100,000 matching grant from the Ford Foundation, Re:Gender established the Mariam K. Chamberlain Dissertation Award to honor and extend Mariam K. Chamberlain's work. The Award enabled Re:Gender, and now ICRW, to continue Mariam's interest in promoting mentorship and high-level scholarship. The Mariam K. Chamberlain Dissertation Award will support a first generation doctoral student, including immigrant students, as he or she works on a dissertation under the close supervision of a senior dissertation advisor over one academic year.
For over 40 years, the International Center for Research on Women (ICRW) has been the world's premier applied research institute dedicated to identifying sustainable solutions to the challenges facing women and girls around the world. Headquartered in Washington, DC, with regional offices in Asia and Africa, ICRW provides rigorous research evidence to inform programs and policies that help alleviate poverty, promote gender equality and protect the rights of women.
In September 2016, ICRW merged with Re:Gender (formerly the National Council for Research on Women or NCRW) in order to pursue a global research and advocacy agenda focused on advancing women's empowerment and achieving gender equality. ICRW is honored to carry forward the Re:Gender legacy, including its annual Mariam K. Chamberlain Dissertation Award, which pays tribute to Re:Gender's founding President, Dr. Mariam K. Chamberlain, who passed away at the age of 94 in April 2013. She was a true visionary whose contributions to the feminist and social justice movements are evident across the world by generations of women.
Project Topic/Focus
The student's dissertation must be related to ICRW's mission to empower women, advance gender equality and fight poverty. Their main thematic focus areas include violence, rights and inclusion; women's economic empowerment; and global health, youth and development.
Prize
$10,000 is awarded annually: $8,500 to a Ph.D. graduate student (preference is to award a student who identifies as a woman); and $1,500 to the student's dissertation advisor. The sum awarded to the student may be used to help fund ongoing research and associated education costs;
It is expected that the sum should also help fund travel expenses related to the Award for both the student and the advisor, including a dissertation presentation when the Award period has concluded.
Eligibility
Eligible students are U.S. citizens, U.S. permanent residents or non-citizens. However, the student must be enrolled at an accredited institution based in the U.S. and pursing a Ph.D;
Student must have completed all course work, have a dissertation advisor and expect to have passed all preliminary examinations (i.e., ABD status) by the time the Award begins in August 2017;
Student's PhD will not be completed before May 2018.
Selection Crtieria
Applicant is a first generation doctoral student (includes immigrant students);
Topic has demonstrated originality and is relevant to ICRW's mission to empower women, advance gender equality and fight poverty;
Applicant demonstrates scholarly excellence.
For more information and application, visit Mariam K. Chamberlain Dissertation Award.