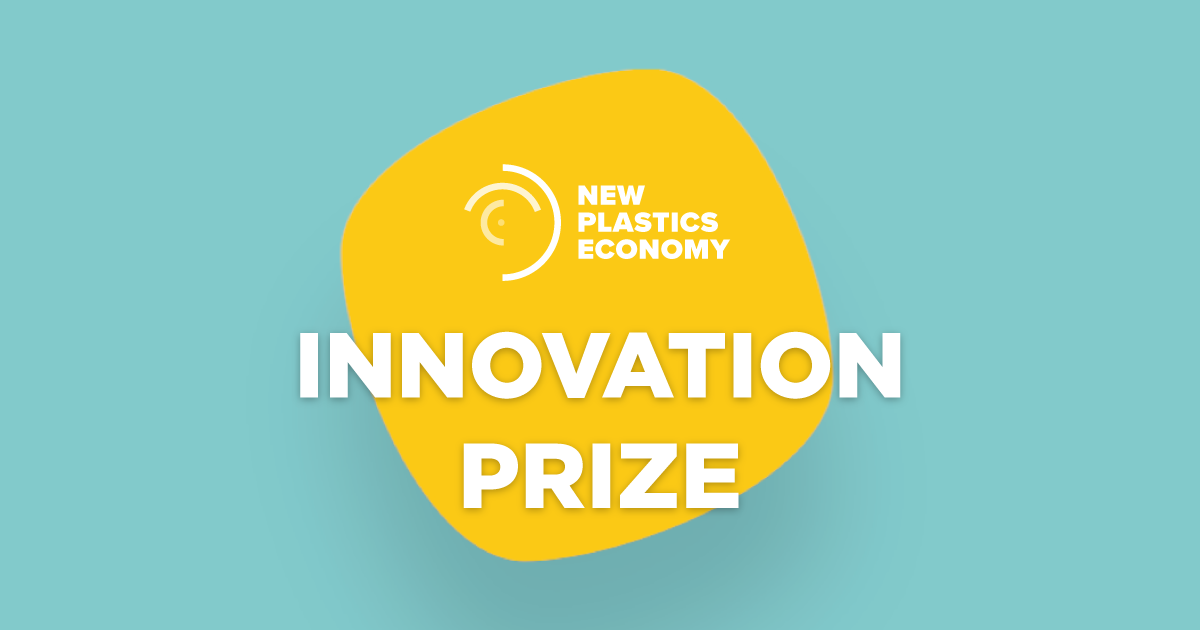 Apply for the New Plastics Economy Innovation Prize 2017
Deadline: Ongoing
As part of the New Plastics Economy Innovation Prize, the Circular Design Challenge asks the question: How might we get products to people without creating plastic waste? The Circular Design Challenge seeks to inspire creatives to design solutions for plastics packaging to stay in the economy, and out of the environment.
The Circular Design Challenge seeks to catalyse innovation and help to advance the development of new packaging formats and/or delivery models that can be alternatives to the ones used today. The Challenge targets small-format items – which make up 10% of all plastic packaging – and include things like sauce and shampoo sachets, wrappers and tear-offs, straws, take-away coffee cup lids and bottle caps. These items generally don't get recycled, either because they are so light and small they get filtered out in automated sorting processes, or because they are not worth the effort to be collected and sorted manually.
Love them or hate them, plastics are everywhere around us. They protect our food, make our cars lighter and hospitals would not run without them. In fact plastics are so useful, their demand is expected to double in the next 20 years. Yet our plastics system is broken. Only 14% is recycled, resulting in a loss of USD 80-120 billion per year to the global economy. Did you know that most plastic items are used only once before being discarded? If nothing changes, there will be more plastics than fish in the ocean by 2050. So, how do we fix this? If we want to free our ocean from plastics, we have to fundamentally rethink the way we make, use and re-use plastics so that they don't become waste in the first place.
Prizes
Knowing that successful innovations come in many shapes and forms, and need different kinds of support along their evolution, organizers wish to encourage ideas at multiple stages of development by awarding prizes in two categories:
Ideator's Award
Early-Stage Ideas – $10,000  (up to ten awards of $10,000 each)
Up to 10 winners (concepts) will be awarded $10,000 to support continued explorative innovation. Winners will also be invited to participate in a series of educational and inspirational seminars as part of the Accelerator Phase.
Future of Plastics Design Award (2 Levels)
Mid-Stage Ideas – $100,000 (up to three awards of $100,000 each)
Advanced Ideas – $200,000 (up to three awards of $200,000 each)
In this category, organizers expect to see more advanced ideas, developed by experienced teams or individuals, which have been exploring the Challenge issues for 12 months or more, and operate with a legal structure (e.g. llc, partnership). The ideas have likely emerged prior to the start of the Challenge, or teams/individuals are able to quickly work to reach the next level of development during the Challenge. A significant amount of prototyping and some piloting has likely taken place before or during the Challenge, and the most advanced ideas have developed viable business models and begun to scale up operations.
The best ideas in this category will be evaluated by a judging panel of experts from business, academia, and key geographical regions. Up to 3 winners will be awarded $100,000 each, and up to 3 winners will be awarded $200,000 each, to support further development towards implementation of their ideas.
Winners in this category will be invited to participate in the New Plastics Economy Accelerator Program, a 12-month program specifically designed to advance their innovation. The program provides customised mentorship by industry experts on topics ranging from specific guidance on industry needs and requirements, to relevant science, business basics, global IP protection, strategic partnerships, investor strategies, CEO experience, and others. Participants in the Accelerator Phase can expect:
access to innovation labs for testing of viability and scalability, and guidance support as needed
the opportunity to present their idea at 2 widely publicised events, in front of a crowd of potential customers, business partners and investors
receiving amplifying media exposure in both media and on social media platforms.
Eligibility
The challenge is open to a broad range of innovators to participate. They could range from students and social entrepreneurs to seasoned inventors, design teams, startups and SMEs;

The Challenge is open to all individuals over the age of 18 and to all validly formed legal entities. No fee is required to participate in the Challenge.
For application and more information, visit New Plastics Economy Innovation Prize.