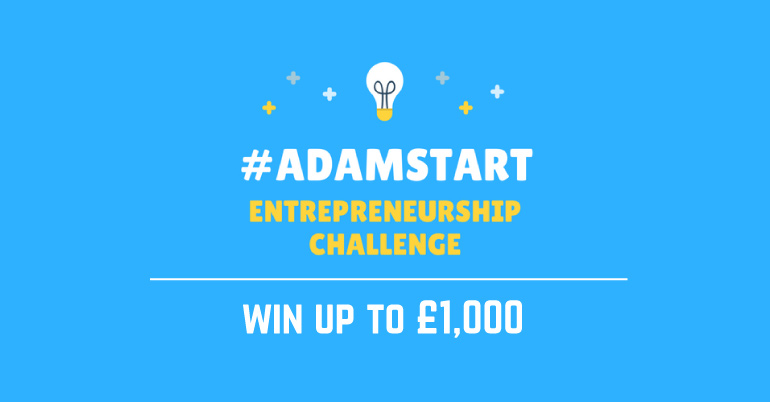 Enter the #AdamStart Entrepreneurship Challenge 2017
Deadline: July 31, 2017
Young entrepreneurs from all over the globe are invited to make their pitch to the #AdamStart Entrepreneurship Challenge 2017. The #AdamStart Entrepreneurship Challenge is a global competition which supports aspiring entrepreneurs with a start-up idea. The programme was launched by Adam Bradford, a Queen's Young Leader from London and social entrepreneur.
Adam, who is autistic, started his first business in his hometown of Sheffield aged 14 through a local school enterprise competition. He believes passionately in the power of entrepreneurship to unlock talent and help young people become resilient, self-sustaining citizens who can do good in the world. His business designs social programmes which address issues relating to young people; in collaboration with young people themselves, in more than 30 countries worldwide.
He has worked with global institutions designing and implementing youth business programmes for example Youth Business International, Virgin StartUp and UnLtd – the foundation for social entrepreneurs. Adam comments: 'I have learned so much from fellow entrepreneurs and know the kind of help and direction I would have liked early on in my business career. I really believe that we all, as entrepreneurs, have a duty to pass on our skills and do what we can to encourage the next generation leading businesses of the future. This is why I'm so pleased that my company is able to give this opportunity to one lucky young entrepreneur who I will stand shoulder to shoulder with for the next year and beyond.'
Benefits
Up to £1,000 to invest in capital expenses
1 year of business mentoring
PR and marketing support
Access to networking opportunities
 Eligibility
Young person must be the original founder and aged between 18-29 at the time of entry;
From any part of the world;
Any kind of business (ideas which may bring about civil unrest will be rejected);
Have an innovative business idea with plans for sustainability and a clear budget;
Ambitious and highly motivated.
Application Process
Simply apply online. Entries are open from May 31, 2017 and close at 23:59 British Time on July 31, 2017. If you have any additional needs or require adjustments to be able to make an entry, please contact [email protected] Entries received by e-mail cannot be accepted.
For more information, visit #AdamStart Entrepreneurship Challenge 2017.