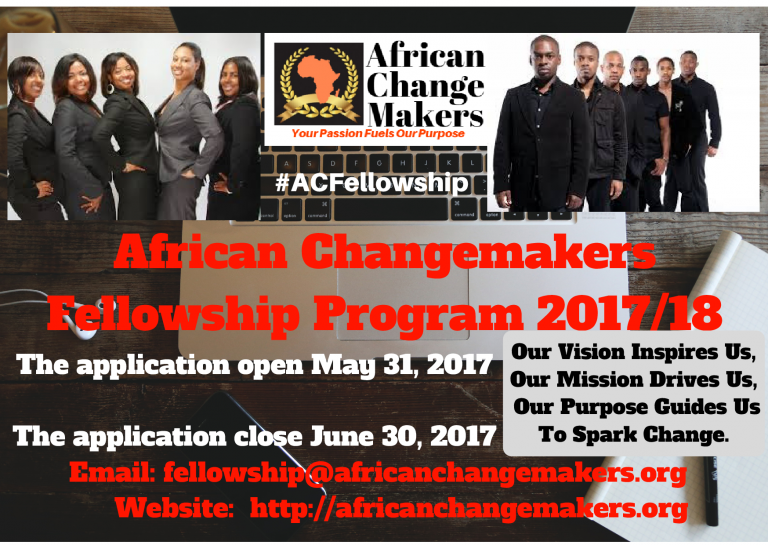 African Changemakers Fellowship Program 2017/18
Deadline: June 30, 2017
Apply now for the African Changemakers Fellowship Program. The fellowship selects impressive visionaries and train the next African emerging leaders. These committed change-makers know best how to transform business and their communities' social issues. African Changemakers Fellowship Program continues to develop Africa social entrepreneurs and social enterprise through training, mentorship, collaboration and connected network to a global changemakers.
The fellowship will focus on the following areas:
Social Entrepreneurship
Economic Development
Social Innovation
Social Intrapreneurship
You will learn a lot from the training and they will learn a lot from you. African Changemakers Fellowship is a selection application process; selected applicants are enrolled in FREE intensive 7 weeks online training to share, collaborate and learn everything on social enterprise, entrepreneurship, leadership and intrapreneurship and how to develop ideas to a project or initiative. The goal is to empower the next Africa Changemaker and spark change.
Eligibility
Applicant should
Be between 25-45 years old;
Be a citizen from any of the 54 Africa countries
Be fluent in English – Can read and speak in English
Be able to commit a full 16 hours a week to the program
Have passion for using your skills to have a positive impact in community and business
Be interested in social enterprise for Africa sustainability development
Show demonstrated leadership and collaborative skills
Show demonstrated initiative, self-direction, and a "can-do" attitude.
Important Dates
The application opens May 31, 2017
The application close June 30, 2017
Selected Applicants Notification: October – November, 2017
African Changemakers Fellowship Program Duration: January 5, 2018 – February 23, 2018
For more information, visit African Changemakers Fellowship Program.