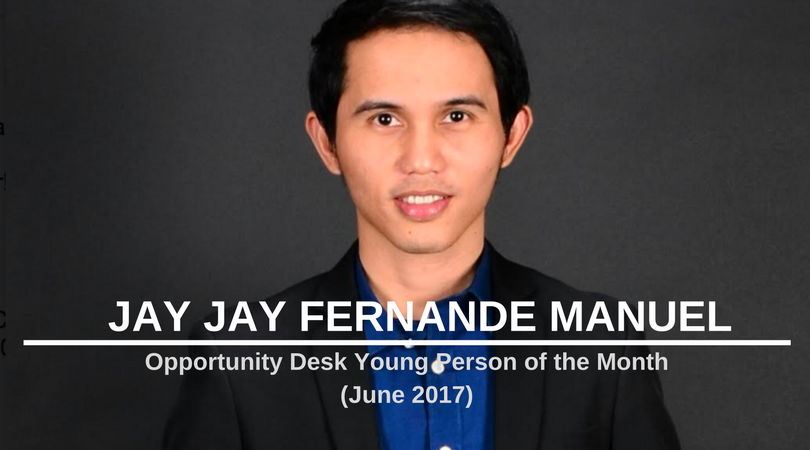 Jay Jay Fernandez Manuel from the Philippines is OD Young Person of the Month – June 2017!
Welcome to the month of June, a month of possibilities!
Our Young Person of the month is Jay Jay Fernandez Manuel, all the way from the Philippines! Mr. Manuel is an Assistant Professor at the University of Cordilleras in the Philippines. In addition to lecturing, researching an mentoring, Manuel is  a passionate environmental education (EE) advocate who is deeply involved in environmental awareness programs in his community.
Read his story and be inspired!
JAY JAY FERNANDEZ MANUEL
Since his childhood, Manuel's parents instilled in him the value of education. Their influence, he says, played a significant role in molding him into the person he is today- an accomplished man in the field of teaching, research and community extension.
Mr. Manuel holds a Master's Degree in Biological Sciences from Saint Louis University; and Bachelors of Science Degree in Biology from the University of Philippines. Both were under the Philippine Government Scholarships. He is hopeful of pursuing his Doctor of Philosophy (Ph.D.) degree in Biotechnology and Molecular Biology in near future.
Besides serving as a professor, Mr. Manuel is an active youth leader in the Philippines, striving to increase awareness and youth involvement in addressing various environmental issues. These include climate change, biodiversity, disaster risk reduction, and waste management.
He has been instrumental in promoting education for sustainable development programs to unite the youth and encourage them to initiate their own environmental efforts in their respective schools and communities.
In the University of Cordilleras, Jay Jay Fernandez teaches both the undergraduate and graduate school. Some of The courses he teaches include Anatomy and Physiology, Chemistry, Biochemistry, Genetics, and Biotechniques to mention but a few.
His extensive professional experience in education and research complement his strong academic background.
He is currently the Research Coordinator of UC College of Arts and Sciences and the Editor of the Enquerre Research Journal for the Arts and Sciences. He has a few international research publications on ethnobotanical and microbiological studies and phytochemical analysis of various Philippine medicinal plants. His research interests also include the potential of some biological agents in agricultural systems, biodiversity and climate change, and waste management, among others. He also is a research mentor/adviser of various graduate and undergraduate theses and researchers in his institution.
As an educator, he takes part in preparing students to become intelligent in dealing with environmental concerns, as part of both curricular and extra-curricular activities. He initiates various activities such as providing seminars and pieces of training of environmental theme for academic staff and students about environmental awareness, climate change, and biodiversity, and sustainability, mobilize students to actively engage themselves in vibrant environmental organizations and participate in community programs and sustainability plans of the school.
Mr. Manuel is an environmental education (EE) advocate. His commitment to environmental education is attested by his community involvement on environmental awareness programs that extend across all stakeholders in his community.
Manuel is an active participant in committees which oversee the environmental management system of the institution that includes its best practices, such as promoting energy and water conservation, pollution prevention, solid waste and chemical management, and promoting green architecture in the physical plant of the University. As one of the founding members and the former Secretary of Restoration Ecology Society of the Philippines (RESPhil), he helps in organizing seminars and workshops that bring different researchers and scientists in the country that provide an avenue for knowledge and experience sharing about environmental studies.
On how he started his career
"Teaching for me has been an innate calling even at a young age. I have always dreamed of becoming a teacher. My parents instilled in me that the only way to achieve my dreams and aspirations was through a college education. As I got older, I struggled to go to school because of financial considerations, but my family always took the time to help me in my studies."
"My background is mainly academic. My decision to enter the academe was not merely by accident but a direct result of my desire to help the youth in our country to acquire knowledge and get involved in their learning process. After college, I taught Biology and Chemistry at the University, instead of going to a medical school. While teaching, I pursued graduate studies to improve my chances of promotion from a junior instructor in the University. Through the years, my professional interests diversified into teaching, research, and community works, thus further enhancing my capacity as an educator."
"Then one thing led to another. That, in turn, led me to my present position as an assistant professor at the University of the Cordilleras in the Philippines. Most of these were not strictly planned, but everything became exceptionally rewarding," says Mr. Manuel.
Awards, honors, and affiliations
In 2015, Manuel received the Silew awards 2015 for being an outstanding advisor. The award was given by the University of the Cordilleras. Prior to this, he had received awards from the University of Cordilleras including the Excellence in Teaching and the Five Year service Award offered in June 2013.
He had the opportunity to participate in creating the "Capacity Assessment on Climate Change Adaptation and Mitigation Framework" for strengthening the Philippines' institutional capacity to adapt to climate change and the "National Environmental Awareness Action Plan: A Roadmap to the Implementation of Republic Act 9512" with DENR Environmental Management Bureau and the Philippine Association of Tertiary Level Educational Institutions on Environmental Protection and Management (PATLEPAM).
The International Symposium on Medicinal and Aromatic Plants ISHS, Horticultural Science Society of Thailand, Department of Agriculture (Thailand) December 15-18, 2011
What inspires Mr. Manuel?
"My parents' example of hard work and their emphasis on education has inspired and strengthened me to pursue a college degree. I have also been raised by a family who has never stopped giving their love and inspiration to make my dreams come true. Most of the time, with the family's limited resources, my siblings always have to give way for me. I have finished college and landed a decent job after graduation. Now, I have a profession that enables me to help my family and able to continue with my higher education – my ultimate dream. My parents inculcated in me the value of education, the desire to learn and accept challenges and I want to share these same experiences with others, especially with my students."
"As education provide me with a lot of opportunities, I realize that I wanted to give back to my community by further improving my capacity to teach and continue to generate knowledge through research that will benefit the community to the grassroots level. My desire has always been to educate people in the community about taking good care of their environment to improve the quality of their lives. I feel that through teaching and research, I may be able to affect the lives of many students whom I share the same challenges and successes."
"As I wake up each day, I am always excited to go to school to help my students learn and achieve their goals. I know that every child deserves a quality education and my love of teaching continues to motivate me to become a better teacher on a daily basis. I consider each day of my life as an opportunity to reach out to the youth and help them achieve their goals in life. I also want to inspire the younger generation about the importance of taking good care of their environment for a better future."
Final words for the youth
"Youth! You are the "Pag-asa ng Bayan" (Hope of the Fatherland). In your shoulders lies the responsibility of making this community, this country, our world the best it can be. To make this a REALITY, I give one of the surest keys to make this task easier if not possible – EDUCATION."
"Education does not mean triumph but a way to surmount life's innumerable struggles. It is not an end to these struggles nor something that holds a complete bright promise but a battle to survive in the real world. It is therefore imperative to arm yourselves for this battle. You must strive hard to make good in your studies. The future is in your hands, MAKE IT BRIGHT!" he concludes.
For more information, read Jay Jay's publications here and connect with him on LinkedIn.
———————————————————————————————————————————
Who will be the Next Young Person of the Month?
You can be the next Opportunity Desk Young Person of the Month! All you have to do is get a friend to recommend your work or fill out the nomination form here. We want to use the platform to recognize and celebrate the efforts of amazing young people around the world. O! And you must be an active Opportunity Desk member, either as a fan, reader or subscriber!
Don't miss any updates in the future. Join Opportunity Desk on 108k+Facebook, 13.1k+Twitter, 59k+Group or join 23k+Subscribers via Email below!