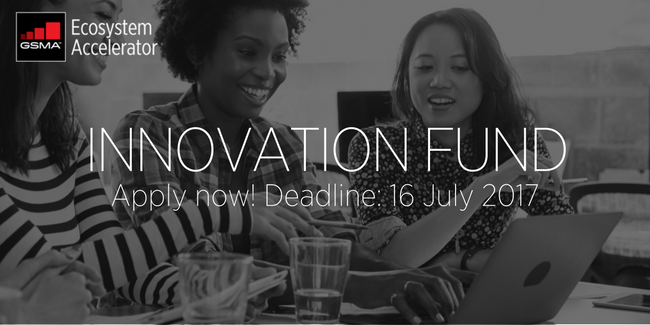 GSMA Ecosystem Accelerator Innovation Fund 2017 (Up to £250,000 Available)
Deadline: July 16, 2017
The GSMA Ecosystem Accelerator Innovation Fund provides selected start-ups in Africa and Asia with grant funding, technical assistance, and the opportunity to partner with mobile operators in their markets to help scale their products and services into sustainable businesses with positive socio-economic impact. The Fund supports innovative start-ups in emerging markets to achieve sustainable growth and improved socio-economic impact. The objectives of the Fund are to:
Establish partnerships between mobile operators and start-ups in order to increase the reach of innovative mobile services;
Test business models with the greatest potential for growth and impact;
Provide lessons and examples on the ways in which mobile is driving positive socio-economic change.
Focus Areas
The Fund will run a number of rounds between 2017 and 2020. For each round there will be specific areas of focus. During the second round ('Round 2'), these are:
Sharing economy: defined as any mobile-based platform, product or service which enables low-income citizens in emerging markets to generate income from 'underutilised assets' through sharing those assets with their peers;
Services for SMEs: defined as any mobile-based solution, product or service designed for Micro, Small and Medium Enterprises (SMEs) – formal or informal – in emerging markets which unlock improved productivity and growth.
The Fund supported by the UK Department for International Development (DFID), the Australian Government, the GSMA and its members.
Grants
The support package includes:
Funding (The amount can be between £100,000 and £250,000);
Mentoring on the use of mobile technology;
Facilitation of relationships with mobile operators.
Eligibility
To be eligible for funding, start-ups must meet the following criteria:
Be registered and operating in the country of project implementation (whether domestic or foreign owned) in compliance with relevant business licensing, taxation, employee and other relevant regulations;
Be aligned with one or both of the current Round's focus areas;
Be in satisfactory financial health and have adequate financial systems to report regularly to the Fund and, if required, undergo an external audit;
Have adequate internal human resource capability to implement the proposed project within the proposed timeframe;
Have already demonstrated success and launched a product or service that has active users and generates revenue in at least one market;
Have the potential and appetite to form strategic partnerships with mobile operators where relevant;
Be compliant with fundamental human rights, UK Modern Slavery Act and Gender Equality Act, Child Protection Policies (here) and international labour standards.
Application Process
Applications will be assessed through a 2-stage application process.
Pitch stage: The first stage will involve completing a short online questionnaire, to be reviewed by the Fund Manager and GSMA. The deadline for submitting pitches is July 16, 2017;
Proposal stage: The top pitches that meet the objectives of the Fund, and where the applicant is eligible, will be invited to develop a proposal setting out the full business case for the project. Applicants will receive support from the GSMA in developing their proposal; this support will likely include an advisory/due diligence visit to the applicant. Selected pitches will be notified early August 2017;
A successful pitch does not imply that the subsequent proposal will be funded.
An independent panel of experts ('Fund Panel') will appraise proposals based on the submitted material as well as recommendations from the GSMA and the Fund Manager;
For Round 2, they expect the final decision from the Fund Panel to be made in December 2017. The Fund Panel is expected to select 12 to 18 start-ups to the portfolio.
For more information, visit GSMA Ecosystem Accelerator Innovation Fund.