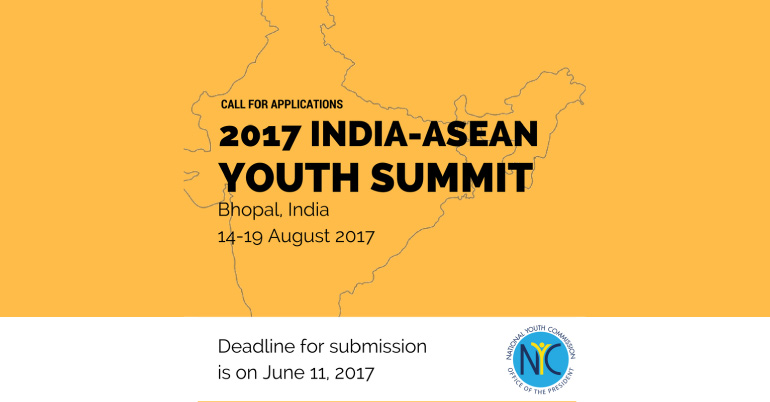 Apply for the NYC India-ASEAN Youth Summit 2017 (Funded)
Deadline: June 11, 2017
The Ministry of External Affairs India and the Indian Foundation, through the Embassy of India in Manila and in partnership with the National Youth Commission have open the application to the 2017 India-ASEAN Youth Summit in Bhopal, India. The program, which will run from August , 2017, is a week-long cultural program that aims at promoting international goodwill & cultural understanding amongst promising young individuals, developing their potential as future leaders in government, business & civil society. The National Youth Commission will be sending 9 participants.
Cost
The organizer will shoulder the participant's round-trip airfare as well as the accommodation & meals during program;
Participant shall shoulder the visa application fees, airfare from his/her residence to NAIA and back, terminal fees, and travel tax.
Eligibility
Open to Filipino youth leaders (students, out-of-school, working, or specific youth groups)
Between 18 – 35 years old;
With good communication skills;
Philippine passport holder (valid until February 2018);
Mentally and physically fit to travel;
With thorough knowledge of Philippine history, culture, and current events;
Must be able to attend the pre-departure briefing on August 13, 2017 and the program proper on August 14-19, 2017;
Must be willing to be an NYC volunteer or to participate in post-program activities.
Application Process
The following documents are required for a complete application:

Scanned copy of valid passport
Certification from university or community-recognized youth organization that applicant is a bonafide member.
An essay of not more than 1500 words answering the following questions: A) what are your expectations about the program? B) once accepted, what do you think can you contribute to the program? C) what are your plans after you return from the program?

Documents must be submitted to [email protected] (with subject heading: Application for 2017 India-ASEAN Youth Summit)

For Personal Application or Submission through courier: Submit your documents to THE INTERNATIONAL PROGRAMS UNIT, 3rd Floor West Insula Building, West Avenue, Quezon City, 1105.
Applicants are advised to strictly follow the instructions for submission. The NYC will not be responsible for application documents which will be lost or sent to wrong e-mail addresses.
For more information, visit India-ASEAN Youth Summit 2017.