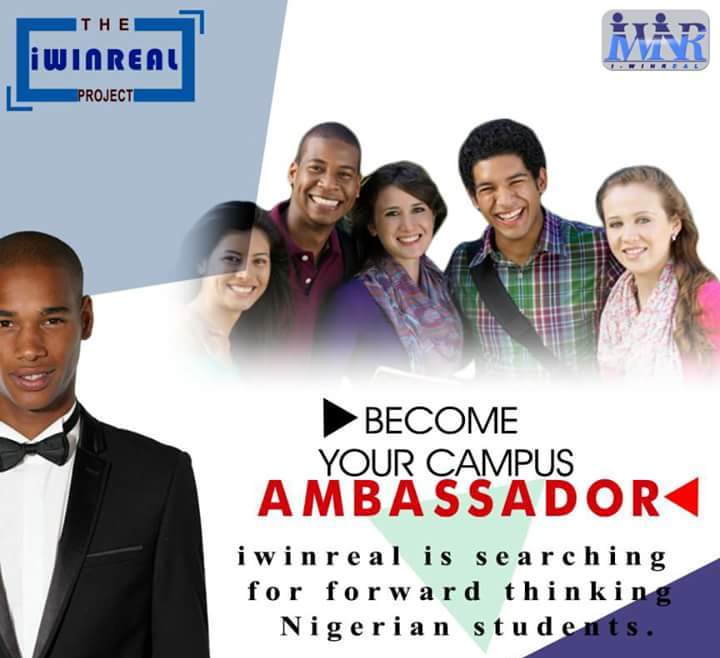 Apply to Become an IwinReal Campus Ambassador
Deadline: Ongoing
IwinReal is searching for forward thinking Nigerian students to join in their Campus Ambassadors Program. The Campus Ambassador role is a one year program that provides great opportunities for wider levels of interaction and building a rewarding relationship with the company. It also creates invaluable networking and work platform for students that helps create a seamless transition between school life and the real world. One of the ways in which they engage students is through campus activities in Nigerian Universities and they do this in collaboration with students who are selected as Campus Ambassadors.
Campus Ambassadors are to
Work closely with the IwinReal team and also Participate in organizing IwinReal campus events. Spread the word about activities and ensure follow-up.
Provide campus/students insights to IwinReal, Build relationships on campus with faculty and student groups. Spread IwinReal goodwill with fellow students.
Benefits
Acquire or improve valuable career skills such as problem solving, public speaking, and communication;
Expand your professional network working side by side with educators, IwinReal employees and fellow students;
Express your passion for education and help your peers succeed;
Publish your work via social media outlets, internal newsletters, and IwinReal products;
Get featured on the IwinReal website;
Receive relevant work experience and enhance your professional development;
Get a certificate of Ambassadorship at the completion of your contract;
Get recommendation and reference letters from us plus mentorship.
Eligibility
To qualify to be an IwinReal Brand Ambassador, candidates must:
Be enrolled in a Nigerian University;
Not be in first year and or final year;
Be creative and innovative;
Be sociable and actively involved in school activities on Campus;
Have a good moral record and relationship with the School authorities;
Have good communication skills.
Application
To be a part of this great opportunity, sign up here!
For more information, visit IwinReal Campus Ambassador.