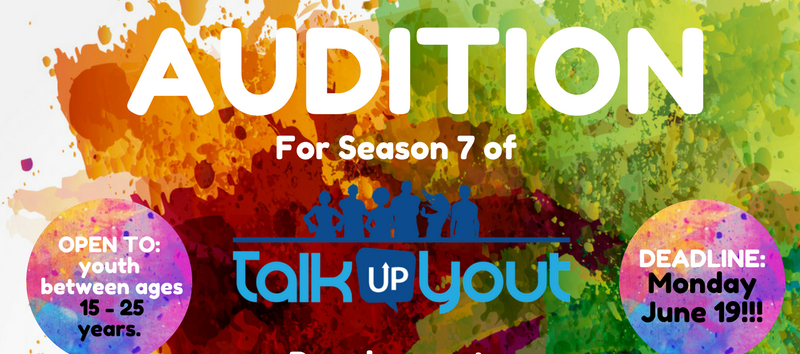 Participate in the Talk Up Yout TV Show Season 7
Deadline: June 19, 2017
Do you care about youth issues? Do you have a lot to say? Do you think young people deserve a space to speak up without fear, and a platform via which their voices can be magnified so their issues can be brought to the attention of major stakeholders – parents, teachers, employers, the government? Then you should audition for Season 7 of Talk Up Yout TV Show – Jamaica's only Television Show completely dedicated to "Giving the Youth a Voice".
'Talk Up Yout' develops, supports and highlights programmes that encourage adolescent development and participation. Adolescent participation in Jamaica remains highly uneven. The adolescent voice is largely missing from decision-making and policy development. Talk Up Yout' – a nationally televised talk show – is one of the few platforms designed to share adolescent views on issues affecting young people with solutions as the final outcome.
Benefits
All selected candidates will join panels of their peers to discuss major issues on live television, broadcast nationally.
Eligibility
You must be between 15 and 25 years of age to audition;
Your video must be on a youth issue.
Application Process
Just send a short two minute video of yourself speaking about a youth issue of your choice, giving a solution to that issue and explaining why you're the best fit for a Talk Up Yout panel! No issue is too big or too small. Just be yourself! Email to [email protected] or send us a Facebook message. Please include your name, age, community and contact info in your message.
For more information, visit Talk Up Yout TV Show.