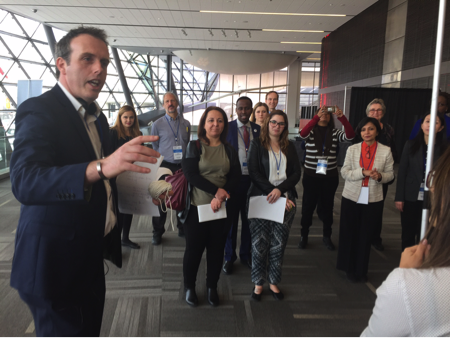 Call for Proposals: UNESCO/MGIEP Transforming Education Conference for Humanity 2017
Deadline: August 15, 2017
Are you passionate about digital pedagogies that foster peaceful and sustainable societies? Do you have cutting-edge solutions, products or a pioneering digital pedagogy idea that you believe can transform the future? UNESCO MGIEP is calling for unique proposals to be featured at its international ed-tech conference #TECH to be held from December 16-18, 2017 in Visakhapatnam, India.
In an age of rapid change, characterized by exponential growth in information technology, globalization and rising inequalities, the 21st century poses a unique set of challenges. To contend with these interconnected global issues, education systems have to develop new and innovative approaches. This means that we need to work at all levels—from government policies to classroom teaching methods and informal learning—to empower young people to rapidly and easily adapt to their changing environments and to lead socially responsible lives. With this background, UNESCO MGIEP is organizing the TECH conference.
TECH 2017 aims to highlight the world's best digital pedagogies for enhancing 21st century skills to build peaceful and sustainable societies. The conference will bring together 1,200 international experts, learners, researchers, decision-makers, and policy-makers to discuss, debate, and share their knowledge and innovations. They are calling for proposals that will best showcase your digital pedagogy, enabling policy framework, addressing pitfalls, and highlighting success factors in the following areas:
21st Century Skills
21st Century Schools for Inclusive, Equitable and Quality Education
21st Century Policies for the implementation and mainstreaming of digital pedagogies in educational systems
Eligibility
TECH intends to bring together educators, education researchers, neuroscientists, edtech specialists, policy makers, students, gaming experts, curriculum designers, young social entrepreneurs, technology experts and futurists who can help build, share, enhance and deliver Digital Pedagogies for Peaceful and Sustainable Societies.
Proposal Formats
Your proposals can be presented in any of the following formats:
Panel Discussions: A designated moderator, 3-4 panelists and an invigorating discussion on a particular topic. The discussions will be scheduled for 60 minutes, followed by Q&A for 30 minutes;
Workshops: An engaging, hands-on session of 60 minutes which is a personalised, in-depth exploration of a particular topic, engaging small groups;
Short Sessions: Two 15 minute presentations offering different perceptives on a particular topic;
E-posters: An informal digital presentation engaging the audience in a one-to one discussion. An open conversation with direct questions and audience interaction.
Application
The application process requires interested individuals to complete and return the Application Form along with their presentations.
Submission Guidelines
The title of the proposal should convey the exact topic and its content;
A brief yet detailed description of your session covering the subject, objective and proposed outcome;
The method you use to deliver your presentation must align with one of the session formats;
Please also submit a brief bio of the presenter and co-presenter.
All of the above must be submitted to [email protected] by 11:59 p.m. Indian Standard Time on August 15, 2017.
For more information, visit UNESCO/MGIEP TECH.