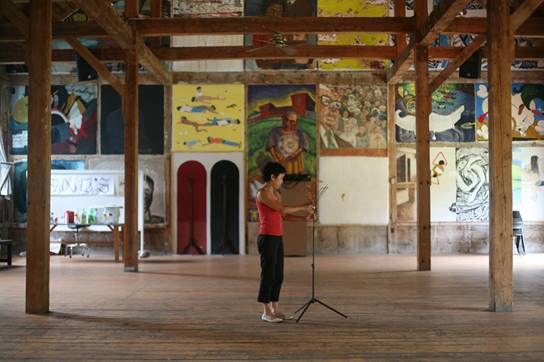 Asia Art Archive-Inlaks Grant for Artists 2017-2018
Deadline: July 15, 2017
Inlaks India Foundation and Asia Art Archive in India are pleased to announce the Open Call for AAA-Inlaks Art Grant for 2017-18 dedicated to supporting new and innovative approaches to practicing art today. The aim of the Grant is to encourage artists to propose and test new forms of art-making that incorporate research, collaboration, workshops and formal experiments as a way to examine the technologies and eco-systems of information that shape our times. The provocation to candidates applying for this Grant is: What shall we do with the Archive?
Candidates are invited to propose projects that explore new imaginations and architectures, new sensoria and interfaces of the archive while looking at existing archives. In a world where hyper-connectivity of information is the norm, what forms of connectivities do we find in bygone eras and how might they be made to reincarnate now? This Open Call seeks proposals that demonstrate a critical approach and bold thinking around the Archive as concept, as systems, and as medium.
Grant
Up to Rs. 200,000 grant available
Eligibility
Open to artists of Indian citizenship residing in India between the age of 25-35 years;
Collectives are eligible to apply provided all members are Indian citizens and not more than 35 years in age;
No outcome in the form of a finished artwork is expected for this Grant. Applications will be assessed on the basis of how clearly ideas have been formulated and how rigorously they propose to be explored;
Proposals with projects that are a continuation of ongoing work that applicants are in the process of making are eligible to apply for this Grant.
Selection Process
Candidates will be shortlisted for interviews on the basis of their application and a decision for one successful application will be made in liaison with an invited Jury member, the Inlaks Shivdasani Foundation and Asia Art Archive in India. The successful candidate only will be notified on August 28, 2017.
Application
Applications must include:
A Cover Document: With your Name, Postal Address, Email, and Telephone number if available, along with Names and Email addresses of 2 Referees from the field;
Updated CV: Limited to 2 pages only;
Artist Statement: Description of your practice and areas of interest (up to 250 words);
Project Proposal: Outline of your plans if you were to be offered the grant. This should include (i) a short description of the intended/ongoing project and your research responding to any of the themes listed in this Open Call, (ii) a timeline for the project's different stages and potential platforms, and (iii) archives/ collections/ individuals you intend to access/visit. The Project Proposal does not have to be definitive and can change during the course of the one-year period of this grant in consultation with AAA & Inlaks representatives. (up to 800 words);
Budget: A breakdown of estimated costs for your project based on your proposal and timeline. The proposed budget will not be considered final until whetted by AAA & Inlaks in consultation with the selected grantee before the commencement date of the grant;
Portfolio of 7-10 recent art projects/works 6. with a list of captions (title, media, year, scale/duration, short description):

Stills: to be compiled into one PDF file (not exceeding 10MB)
Audio/Video: to be sent as links on any of the following online platform such as artist website/ vimeo/ youtube/ soundcloud. If links are password protected, please provide password.
All applications along with the supporting documents listed above are to be submitted online only to both [email protected] and [email protected], latest by July 15, 2017. Incomplete submissions will not be considered.
For more information, visit Inlaks Shivdasani Foundation Grant for Artists.