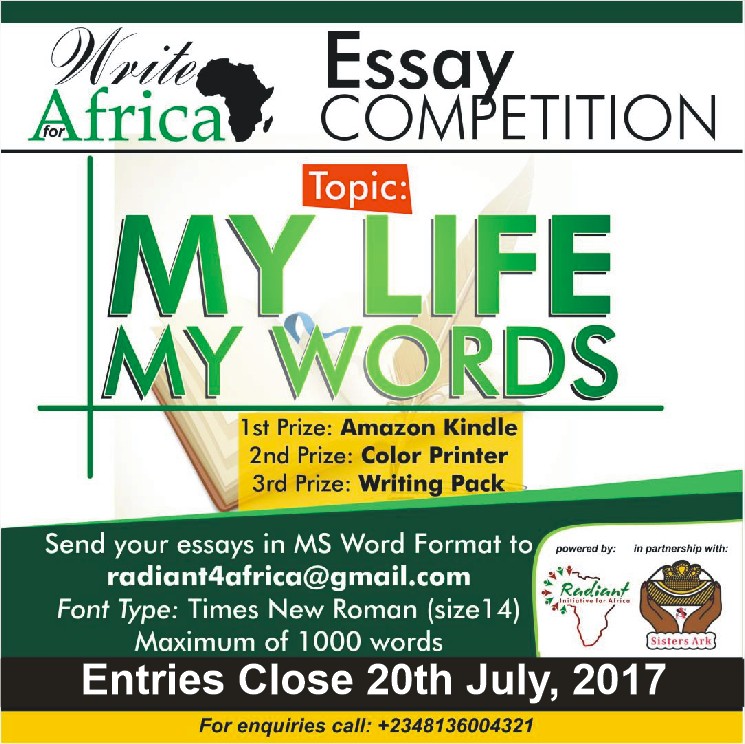 Write for Africa Essay Competition 2017 (Paid Internship for Winners)
Deadline: July 20, 2017
Applications are ongoing for the Radiant Initiative for Africa Essay Contest, "Write for Africa". The contest is aimed at creating awareness on the career opportunities available to young, talented writers, to find creative writers and place them on internships in organizations where their writing prowess will be harnessesed, nurtured and prepared for higher opportunities. All entrants are expected to tell their own stories, motivate others and to show the world who they really are through their submissions. The topic for the essay is My Life, My Words (Non Fiction).
Benefits
Three winners will be selected to participate in a 6 months paid internship in an organization in Abuja;
The top three prize winners will be given an Amazon Kindle, Color Printer and writing pak respectively;
Winners will be put in contact with with influential writers who will serve as mentors to them, providing wider exposure for their creative work, providing them access to national and international support networks of fellow young writers and change makers.
Eligibility
Open to young Nigerians between the ages of 18 and 29;
Entrants must be willing to travel to Abuja if selected for the face-to-face interview;
Entrants must be willing to take the 6 months paid internship placement.
Application
The contest has two phases: Online registration and Essay Submission; and a face-to-face interview for the 5 finalists with the Review committee in Abuja, Nigeria;
After completing the online registration, send essay to [email protected] Essays must not exceed 1000 words and the font type should be Times New Roman (size 14).
All entries will be checked for plagiarism;
Submissions must be received by midnight of July 20, 2017. Entries after this deadline will not be considered;
The shortlisted essays will be notified on July 30, 2017.
For more information, visit Write for Africa Essay Contest.