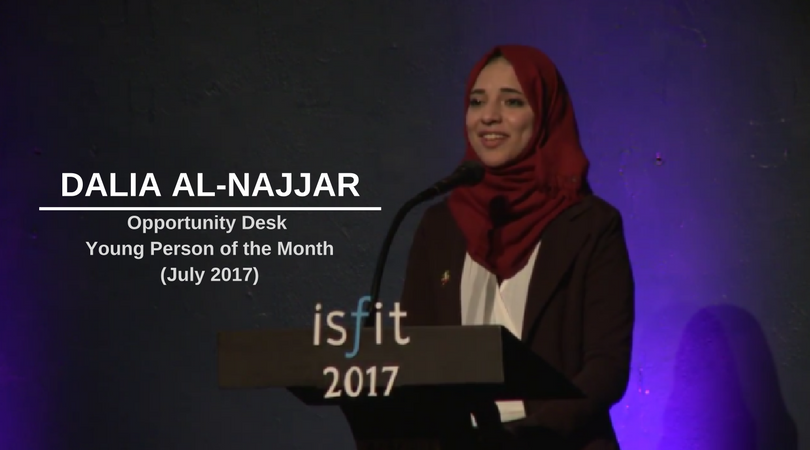 Dalia Al-Najjar from Palestine is OD Young Person of the Month – July 2017!
Welcome to the second half of 2017!
Our July Young Person of the Month is Dalia Al-Najjar from Palestine! Dalia grew up as a refugee in the Eastern South part of Gaza Strip. She lived through and survived three major wars. Dalia overcame the obstacles facing people living in conflict areas to achieve so much in life. She is currently studying for a Masters Degree in Turkey and is a Goodwill ambassador Of Children Of Peace.
Read her story below and be inspired!
DALIA OSAMA AL-NAJJAR
The major obstacle Dalia faced as a young person surrounded by war after war was building a positive attitude towards life and the world. She experienced trauma after trauma let alone the traumas she had inherited from her grandfathers.
When she was twelve years old, a major siege began in Gaza, and when she was fourteen years old, she lived through her first major war which was followed by another one two years later.
Dalia's experiences growing up in conflict zone
"Living in siege limits your reach to the world. It leaves you consumed in the miseries and sufferings you and your community are living through. It means few hours of electricity, and in good days, it would last eight hours before going down to three hours," narrates Dalia.
On some days Dalia would miss the electric supply as she had gone to the university when it was their turn to have the provision in their area. Besides the power rationing which negatively affected her academic performance, Dalia couldn't get constant access to the internet which she required for her research. She would ask her mother to wake her up when the power supply returned so that she could do her papers and assignments. On other days, she was forced to go search for electricity in a different city.
Dalia Al-Najjar's turning point
In 2014 another war erupted, and Dalia terms this as her turning point in life.
"I began writing. I started sharing what I was going through and it came as a surprise when many people across the globe read and shared what I had written. I kept writing and getting different feedbacks which helped me understand how people react to different things. My writings and blog helped me build a supportive network of passionate activists around the world," says Dalia.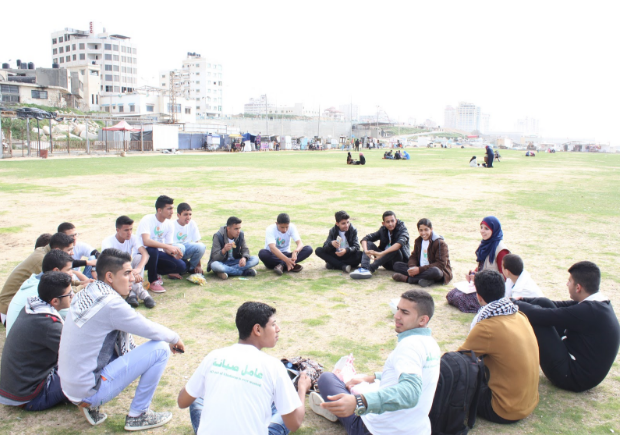 Dalia began contributing to Children of Peace Website which she had been introduced to by her friend living in the United Kingdom. She made regular contributions sharing hope from where it is  termed as a 'very miserable Gaza.' She later got named as an honored friend and she now serves as the organization's goodwill ambassador.
"Children of Peace was one of my major supporters in my journey. They believed in me, and when everyone questioned about my positivity, they are the ones who understood," narrates Dalia.
The Founder and President of Children of Peace, Richard Martin, had remarked, "Dalia is an amazing person who is an inspiration for women across the Middle East."
About her encounter in surviving wars, Dalia says," Surviving wars don't end when the war ends. It starts when the war ends." Up to date, whenever Dalia closes her eyes, she sees images of the uprising which happened when she was five years old. The pictures and screams she saw and heard on television are still vivid, and she can recall every moment during the war. "I used to tell my siblings it's going to be okay and crack jokes using what's left of my soul," says Dalia.
On opportunities which came her way
When Dalia joined the University for her higher education, she began volunteering in many different fields. She gave a speech about positive dialogue in the British Council. In the team she was part of, she came out as one of the most positive people in the room.
In 2013, Dalia joined Gaza Online Citizen Media Network, and together with a dedicated team, they began an initiative to help the unemployed youth. "We made a YouTube show where in five minutes or less, we mentioned all the job opportunities available. The workshops, conferences, and scholarships. Because of the limited power supply, the rate of youth unemployment was up to 64%. We thought a short review could be helpful! It was successful, and we got hosted to talk about it on the local media," says Dalia.
In December 2014, Dalia requested for a passport from her father.  This was outrageous. Being under siege with no air nor sea port meant no one could get in or out of the area however good their intentions were. Her father, however, didn't question her intentions. "He said okay and loved how hopeful I am. He said I give hope to the people around me," recalls Dalia.
In March 2015, Dalia Al-Najjar won $5000 worth of incubation for a start-up idea. However, it didn't push through.
She later launched a crowdfunding campaign for her sister and managed to raise $3000. The aim was to help her sister who had a sight disability to get telescopic glasses before proceeding for her university education.
Dalia later got accepted in the Gaza Team participating in the Middle East Partnership Initiative Student Leaders Program (MEPI-SLP). "It was a six weeks extensive leadership and social entrepreneurship program in the United States of America," explains Dalia. This was the first time Dalia went beyond the borders of Palestine. She had the privilege of meeting many young leaders from different countries for the first time. "It was a great experience. I got to get out from the siege and see the world as a free person. I learned a lot of things. I remember how scared I was during the Fourth of July celebrations. We had gone to see the fireworks and everyone seemed to enjoy except me. It sounded like war and that scared me. I had to leave," recalls Dalia. And that was the day Dalia felt the intensity of her traumatization. "In Gaza, you won't see that as everyone else is traumatized. We are all the same," she says.
When she went back to Gaza, she experienced another cultural shock as she had to come to terms with the realities of her home. There was no power supply. She felt locked up again. In a month's time, Dalia Al-Najjar recollected herself and decided to share her experiences to let people know about the "world".
She joined numerous workshops to talk about civic engagement, global citizenship and social entrepreneurship to mention but a few.
Later on, in the fall of 2015, Dalia began working as a team leader and facilitator of Tamer Institute for Community Education, a leading NGO in Palestine. "I trained and worked closely with 200 adolescents from the marginalized and war-affected area," narrates Dalia. Her positivity made her trainees remark she deserved a Nobel Award! The change Dalia observes in the young people and how they can conquer their fears and speak about issues which are important to them with a sense of unity greatly thrills Dalia. "I still see the difference in their posts in social media, and it's the most satisfying thing in the world," she says.
In 2016, she got a part-time job as a virtual assistant. She had to strike a balance between running from city to city to give workshops to chasing for power supply to submit her numerous reports and assignments and doing her online tasks. Looking back, she can't tell how she did it all. "I think it all goes back to the great advice I was given once: always say yes! Suck it up, push yourself, you don't know your limit," she says.
Dalia graduated with an honors degree in Business Administration in the summer of 2016 and immediately began working as a product manager for a high tech startup. Three months later, she quit her job as she wasn't comfortable with what she terms as 'helping rich people get richer.'
"Everyone told me I am crazy to leave a job when I do not have another one secured. The economy was a mess, but I knew from my heart I am not willing to do something I do not love," says Dalia. She began working as a teaching assistant in her university.
She later got accepted to work as a project manager in one of the best business incubators in Gaza. "It was a well-paying job, and I was taken to work as a marketing representative in the telecommunication company, another very well-paying job, and I went through three testing stages and interviews and all," narrates Dalia.
Shortly, she received a scholarship to study for her Master's Degree in Human Resource and Management in Turkey. Pursuing her education in Turkey meant staying away from her beloved family for three years. "I said yes to the scholarship and left everything behind me and chose to be a broke student away from my family knowing if I got out of Gaza I wouldn't be able to revisit Gaza until I finish the three years program. I could've worked and done my master's degree in Gaza. But I chose to experience an entirely new thing. In all my choices I always go with the choice which is outside my comfort zone to expand it. This what I always told my trainees in the workshop, step out of your comfort zone. Watch yourself grow," she says terming the decision to leave for Turkey as a very challenging one.
In early 2017, Dalia participated in isfit, an international student festival in Trondheim, Norway. She was honored to deliver a speech at the closing ceremony with one message: Stop being sad and be angry. The theme of the festival was on discrimination, and she had participated in talking about the refugees.
Dalia contested in Norway's Young sustainable Impact (YSI) and was privileged to be selected as one of the twenty-five people under the age of twenty-five out of the ten thousand applicants globally who had expressed interest. "I am working as a project manager with a team to design an innovative solution with a social entrepreneurial model to one of the SDGs," she says.
Her limited freedom of movement and power blackout did not deter Dalia Al-Najjar from joining lots of online movements and activities. "I took an extensive course and became a member of the World Youth Alliance and the International Volunteers Association. I am a member of Yala Young Leader Academy, where people from the Middle East get together to discuss peace and different topics as a citizen media. I participated in various seminars online and took a lot of online courses," she says.
Dalia is interested in participating in Sustainable Development Goal number four and sixteen. I.e. Quality Education and Peace and conflict resolution.
Her final words to the youth
"Even though I grew up in a closed culture and place, my heart was always open to learning about the world. My attitude towards life helped me achieve a lot. I took away from all the difficulties I lived and still living in that I am adaptable, tolerant and have a desire to learn. And with these three things. There is nothing that can stop me," says Dalia.
To the youth, she says, "Be at peace with yourself, understand yourself before trying to understand anything in the world. Get out of your comfort zone at an uncomfortable pace. Work on excitingly unpleasant things. And lastly, never stand so passionately on one point before fully understanding the opposite of it and accepting why people oppose it. When we genuinely appreciate things around us, it's only when we can achieve real sustainable change. And I promise everyone has a reason that would make sense to you."
Dalia is well aware she has a conflict to solve and a nation to reunite, and she is well preparing for that! In 20 years' time, Dalia hopes to be a Prime Minister!
Connect with Dalia Al-Najjar on Facebook and LinkedIn!
———————————————————————————————————————————
Who will be the Next Young Person of the Month?
You can be the next Opportunity Desk Young Person of the Month! All you have to do is get a friend to recommend your work or fill out the nomination form here. We want to use the platform to recognize and celebrate the efforts of amazing young people around the world. O! And you must be an active Opportunity Desk member, either as a fan, reader or subscriber!
Don't miss any updates in the future. Join Opportunity Desk on 112k+Facebook, 13.3k+Twitter, 60k+Group or join 24k+Subscribers via Email below!