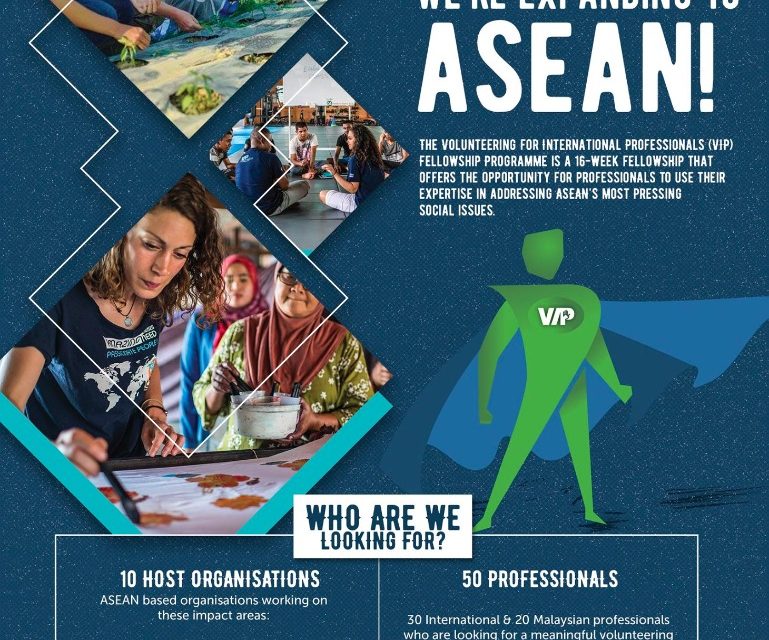 Volunteering International Professional (VIP) Fellowship Programme 2017 (Fully Funded)
Deadline: July 16, 2017
The Volunteering for International Professionals (VIP) Fellowship Programme is an initiative by the Malaysian government to create a large pool of talented professionals, who are passionate about sharing their expertise and experiences globally, as expert volunteers to contribute towards nation-building in ASEAN region. The VIP Programme is designed specifically for professionals on career breaks who wish to volunteer in South East Asia and contribute to building up the regional ecosystem of nonprofits to create more social impact.
This four-month fellowship offers the opportunity for professionals to use their expertise in addressing ASEAN's most pressing social issues. This programme aims to evoke long-term social change in the country. In order to ensure a successful programme, each volunteer is matched to a placement within a Host Organisation in a local community where his/ her expert knowledge will have the greatest impact.
Benefits
As a Fellow you'll be placed with a Host Organisation relevant to your area of expertise for a period of 4 months. During this period you'll work with a group of 4 professional volunteers from around the world on helping your Host Organisation to create more social impact;
Your 4-month stay is paid for in full by the Malaysian government, visas, flights, accommodations, and monthly stipend included.
Eligibility
Applicants must meet the following requirements:
You have a minimum of 3-5 years working or volunteering experience;
You have at least a Bachelor's degree or the equivalent;
You are proficient in English (reading, writing, and speaking);
You are able to commit full-time to the 16 week programme;
You are willing to work with low-income populations & demonstrate good interpersonal skills;
You are committed to returning to your home country upon completion of the Fellowship.
Application
Important Dates
June 16 – July 16, 2017: Deadline for online submission of application of Fellows
July 21 – July 30, 2017: Interviewing and matching
July 21, 2017: Announcement of successful candidates
August 19 – August 20, 2017: Arrival in Malaysia
August 21 – August 25, 2017: Induction workshop
August 23, 2017: Launching ceremony
August 28 – December 15, 2017: Placement and impact projects
October 16 – October 22, 2017: Midterm review
December 11, 2017: Submission of final report
December 14 – 15, 2017: Final presentation and closing
December 16, 2017 onwards: VIP alumni network
For more information, visit VIP Fellowship Programme.