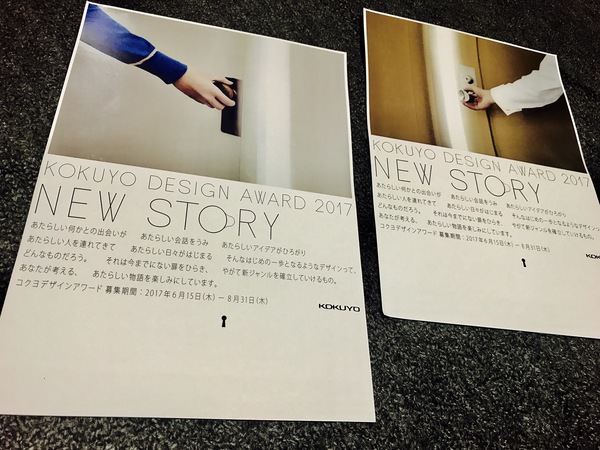 Apply for the Kokuyo Design Award 2017 (Grand Prize of 2,000,000 Yen)
Deadline: August 31, 2017
Submissions are now being accepted for the Kokuyo Design Award 2017. The Kokuyo Design Awards is a competition to attract beautifully functional product designs, taking the best of the best to the actual consumer market. The award enhances design as a value and supports the production of items loved by the user. Organisers are looking for any and all ideas to turn into actual products. The theme for 2017 is New Story.
With a complete understanding of the diverse needs of this era, the KOKUYO DESIGN AWARD is planned in order to create and supply products to this world; it is an award that is the voice of the consumer, so to speak. Without depending only on the price axis and function axis, this award builds on the appealing value axis of the design. From now on, KOKUYO DESIGN AWARD will continue to make plans with themes that match the era and implement them, in order to achieve the aim of producing things that are required by the times and the users.
Prizes
Grand Prize (One from all entries): 2,000,000 Yen
Merit Award (Three from all entries): 500,000 Yen
The contest organizer will pay expenses incurred by participants for travel and lodging (up to two individuals for group entries).
Eligibility
Corporations, organizations, individuals, and group are all welcome; regardless of age, sex, professional background, or nationality;

Entry eligibility is limited to those designs never before shown publicly (in Japan, other countries).

Persons able to make a presentation at final judging (secondary judging) in Tokyo (January 18, 2018);

Eligible entries include Stationery, furniture, household goods etc.
Judging Criteria
Emntries will be judged based on the following:
Relevance to the theme

Degree of perfection of the design & idea

Feasibility of commercialization
Application
Individuals and groups who wish to enter a design for the KOKUYO DESIGN AWARDS 2017 must complete:
Step 1: Register Your Entrant Information
Step 2: Register Design Information and
Step 3: Submit Design
Begin the application procedure now!
Important Dates
August 31: Application Deadline
Early October 2017: Initial Judging
Early to Mid November 2017: Entrant Notifications
January 18, 2018: Final Judging and Award Ceremony
For more information, visit Kokuyo Design Award.