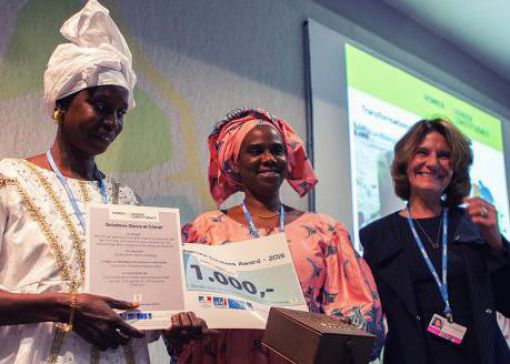 Gender Just Climate Solutions Award 2017 (Grant of 2000 Euros + more)
Deadline: September 4, 2017
The Women & Gender Constituency invites you to participate in the 2017 Gender Just Climate Solutions Awards! The Women and Gender Constituency (WGC) is one of the nine stakeholder groups of the United Nations Framework Convention on Climate Change (UNFCCC). Established in 2009, the WGC now consists of 20 women's and environmental civil society organizations, who are working to ensure that women's voices and their rights are embedded in all processes and results of the UNFCCC framework, for a sustainable and just future, so that gender equality and women's human rights are central to the ongoing discussions.
In 2015, the WGC launched it's first 'Gender-Just Climate Solutions' Awards. These awards aim to showcase real solutions for a more just, equal and healthy planet. Previous initiatives recognized have included women-owned and operated energy cooperatives in Germany, female entrepreneurial "energy shop" initiatives in Mozambique, and human rights based relocation planning in the Carteret Islands.
Award Categories
Technical climate solutions with a women or gender perspective (e.g. in area of renewables, energy or adaptation technologies etc.)
Non-technical climate solutions with a women or gender perspective (e.g. in area of efficiency, consumption changes, resilience and capacity building etc.)
Transformational climate initiatives with a women or gender perspective (e.g. addressing governance, institutional / societal change etc.)
Award
Two tiers of 'Winners' will be selected:
Three top Award Winners will be identified, one per category. These three winners will each receive a Seed Grant of 2000 Euros; travel for one representative to attend the Awards Ceremony held at COP23 in Bonn, Germany this November 2017; and 1-year of mentorship activities from the members of the Women and Gender Constituency;

Up to 30 additional 'Runners-Up' will be featured in a full color-publication which will be showcased in a high-level international awards ceremony at COP23, as well as be highlighted on the WGC website.
Eligibility
All types of activist, grassroots and women-led organizations and groups working on issues related to climate change are encouraged to apply;
Only non-governmental initiatives are eligible (local or national government initiatives cannot be considered);
The activity/initiative should either already have been completed or should be in current operation;
The initiative must fit within one of the 3 award categories.
Application
Timeline
June 28, 2017: Applications Open
September 4, 2017: Applications Close
Week of September 18: Winners Announced
For more information, visit Gender-Just Climate Solutions Award.