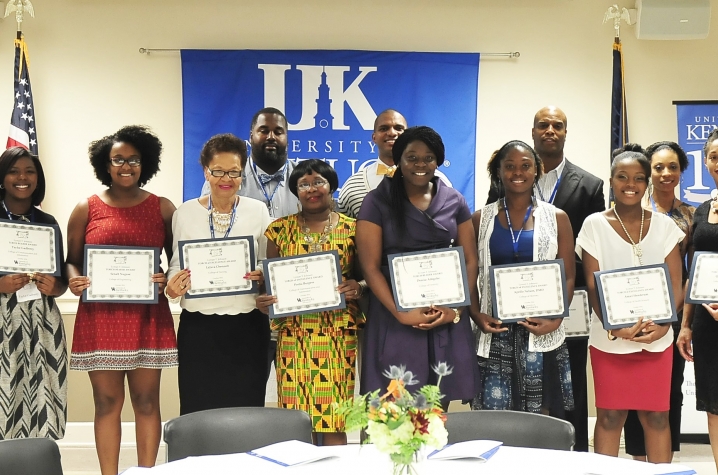 Lyman T. Johnson Postdoctoral Fellowship 2017-18 (Funded)
Deadline: November 1, 2017
In an effort to contribute to the mission of enhancing diversity, the University of Kentucky established the Lyman T. Johnson Postdoctoral Fellowships to support postdoctoral fellows in graduate and professional areas. The fellowships are named in honor of UK's first African-American graduate student, Lyman T. Johnson. Fellowship recipients pursue an individualized research program under the mentorship of one or more UK professors and actively participate in departmental and professional research related activities. Fellows play a lead role in designing, developing and implementing research programs that contribute to a department's overall graduate education and research mandates.
Fellowship
The fellowship provides a $47,476 stipend plus benefits;
In addition, the fellow receives $2,000 for support of research activities. Fellowships are available for up to two years. The initial appointment is for 12 months, but recipients may apply for a second year.
Eligibility
By the time of award, the individual must be a citizen or a non-citizen national of the United States or have been lawfully admitted for permanent residence;
Applicants must have completed the doctoral degree within the past two years or will complete the doctoral degree before the date of appointment;
Preference will be given to applicants who do not have a prior or present postdoctoral appointment at UK;
Applicants who received their PhD at UK must be affiliated with a research group other than the one in which they did their prior research.
Selection Criteria
The selection criteria include:
Evidence of scholarship with competitive potential for a tenure-track faculty appointment at a research university
Compatibility of specific research interests with those present in doctorate-granting units at UK
Quality of the fellowship proposal
Strong support from mentor and references
Compelling argument that the appointment would contribute to increasing the diversity within the research or professional area
Application
Application dossier should contain, each as a single PDF document that will be uploaded into the UK employment system:
Cover letter that should address how participation in this program would contribute to the compelling interest of diversity at the University of Kentucky and in the profession.
Curriculum Vitae, including the references providing letters of recommendation.
An original research proposal written independently by the applicant in a way that non-experts can evaluate (1,500 words or less; figures, schemes and references are not included in this total).
Sample publications or dissertation chapters (no more than 2).
A letter from the potential UK mentor and the Mentor's curriculum vitae (5 page limit) that includes current and pending funding.
A letter from the potential UK departmental chair indicating endorsement and appropriate departmental resources such as space and computer support.
In addition, three letters of recommendation are required. You will be asked to provide contact information for the references and they will receive an email with a link they can use to upload their letter.
Submit your application for a Lyman T. Johnson Postdoctoral Fellowship here.
For more information, visit Lyman T. Johnson Postdoctoral Fellowship.