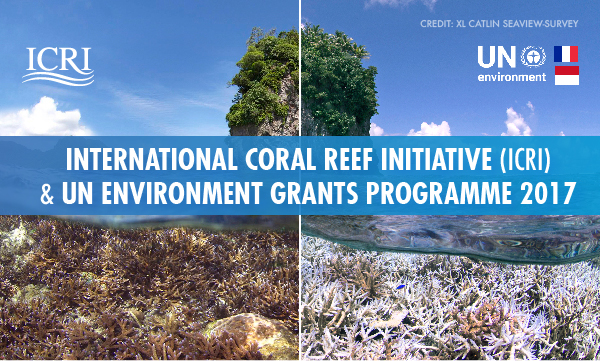 ICRI and UN Environment Grants Programme 2017 (Grants up to USD $60,000)
Deadline: September 15, 2017
Submission of concept notes for the ICRI and UN Environment Grants Programme 2017 is open. The ICRI/UN Environment Grants Programme is a joint initiative of the International Coral Reef Initiative (ICRI) and UN Environment, to catalyze implementation of the ICRI Plan of Action 2016-2018 and the United Nations Environment Assembly (UNEA) resolution 2/12 on sustainable coral reefs management.
The grant programme is designed to encourage projects that demonstrate and catalyze enhanced protection and management of coral reefs and related ecosystems, in particular by promoting resilience of ecosystems, dependent people and economic sectors. Innovative and replicable projects will be favourably considered. Grants under this programme are funded by UN Environment through contributions from France and the Principality of Monaco.
Grants
Grants up to USD $60,000 will be awarded to projects aimed at contributing to the implementation of the ICRI plan of action and at protecting and preserving coral reefs and/or related ecosystems, with a particular emphasis on building climate resilience and facilitating coral recovery.
Eligibility
Applicants must be a legal entity, for instance:

a national or local government;
a Non-Governmental Organization (NGO), registered charity, research institution, foundation or similar organization demonstrating a not-for-profit status, registered and permitted to work in the intervention country.

To be eligible, a project must meet all the following criteria:

Project activities must contribute to meeting one or more of the ICRI Action Plan objectives. Projects addressing climate change resilience, adaptation and coral recovery will be prioritized;
The project must be participatory and partnership-based, designed and implemented in conjunction with stakeholders and with relevant local and/or international partners;
Project must have concrete, measurable results and a clear strategy for sustainability;
Funding from this grants programme must not exceed USD 60,000. Co-financing of projects is not a requirement, but should where available be estimated;
The duration of the proposed project should not exceed 18 months;
Projects must be completed latest by August 31, 2019.
Application
Download the applicant guidelines and the concept note template.
The grant application process has two steps:
Step 1: Open call for project concept notes;
Step 2:

Development and submission of full project proposals, by invitation only.
Please submit concept notes by email to [email protected] Based on concept notes submitted in Step 1, selected applicants will be invited to submit a full proposal in Step 2.
Important dates
August 1, 2017: Announcement/Call for concept notes
September 15, 2017: Closing date for submission of concept notes
October 1, 2017: Invitation for submission of full proposals
November 1, 2017: Submission of full proposals
November 15, 2017: Notification of successful recipients
For more information, visit ICRI and UN Environment Grants Programme.