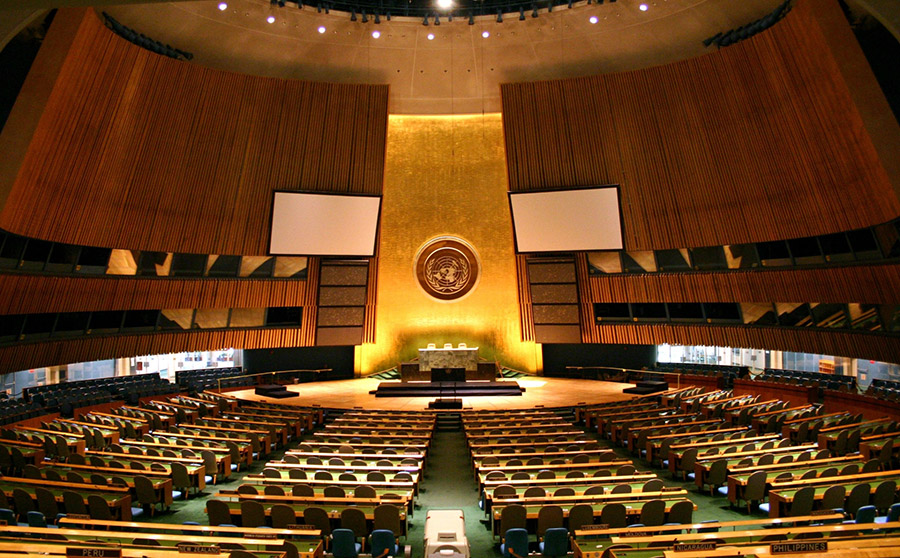 Apply to become a Youth Advocate to the UN General Assembly 2017 (Fully-funded to New York)
Deadline: August 3, 2017
Restless Development and the Permanent Mission of Denmark to the UN are jointly recruiting six youth advocates to attend the General Assembly high-level week, taking place in New York from Tuesday 19th – Saturday 23rd September. They will be jointly implementing a high-level side event during the 72nd session of the UN General Assembly (UNGA) that showcases how young people are already engaging formally and informally in the follow-up and review of the SDGs. The aim is to help embed youth-led accountability at the heart of the 2030 Agenda.
They are looking to support six young people with a diverse range of backgrounds and experiences in youth-led monitoring and accountability for sustainable development, and will be selecting applicants on the basis of the below criteria, as well as ensuring that the group of youth advocates attending the UNGA reflects our commitment to diversity and inclusion.
Preference will be given to young people who have experience at the grassroots and national levels on tackling gender inequality in all its forms, as well as those young people from countries that have committed Voluntary National Reviews at the UN High-Level Political Forum in 2017 or will be conducting a review in 2018.
Travel and Support
You will need to be confident enough to travel unaccompanied to New York and take part in high-level advocacy activities during the UN General Assembly opening week.
You must be willing and be comfortable sharing bathroom facilities and sharing same gender accommodation with fellow Youth Advocates whilst staying in accommodation paid for by Restless Development
Once in New York and attending the UNGA you will be supported by Restless Development staff on the ground with you.
You will have your travel and expenses (transport to the airport, travel insurance, flights, visa, transport in New York, food during travel and workshop, as well as accommodation in New York) completely covered, based on Restless Development's expenses and per diems policy. The per diem policy is $40 a day for all your food, drink and travel. Any remaining funds must be returned to Restless Development at the end of the UNGA.
Eligibility
Be between the age of 18 and 29 during September 2017
Young people from the Global South (Africa, Asia, Latin America)
Young people who have experience of engaging in national and local level monitoring & accountability for the SDGs.
Young people who have direct experience of campaigning and taking action to tackle gender inequality in all its forms.
Young people who are highly motivated to take action to improve the lives and conditions of people and planet.
Young people who believe in the central role the United Nations and it's ability to play a leading role on achieving the Sustainable Development Goals and a peaceful world.
(Helpful, but not necessary) Experience in engaging with institutions and organisations in implementing sustainable development
Fluent spoken English and good written English is required, as well as a valid passport for at least eight months.
Young people who are flexible and easily adaptable and have a positive attitude.
Young people who have a passion for youth-led development and adhere to the mission of Restless Development: "Young people demanding and delivering a just and sustainable world."
Young people who commit to Restless Development's values throughout the entirety of the youth advocate role.
Young people who are willing and open to collaborate meaningfully with others, who thrive when working as part of a successful team and can accept long working days whilst in New York.
Availability Requirement
You will need to make the following time commitments:
Be available to attend the UN General Assembly in New York from the 15th-23rd September and be available to travel one day either side on those dates.
Able to commit to 2-4 hours per week remote and online preparation time with Restless Development throughout August and September.
Able to commit to 2 hours per week throughout the rest of September and October to share your learning from the UNGA and take further action at the national level.
Application
Complete the online application form here.
THE DEADLINE FOR APPLICATIONS IS 9PM BRITISH SUMMER TIME (BST) ON THURSDAY 3RD AUGUST. ANY APPLICATIONS RECEIVED AFTER THIS TIME WILL NOT BE TAKEN INTO CONSIDERATION.
Any questions please do get in touch at [email protected].
For more information, visit UNGA Youth Advocate.