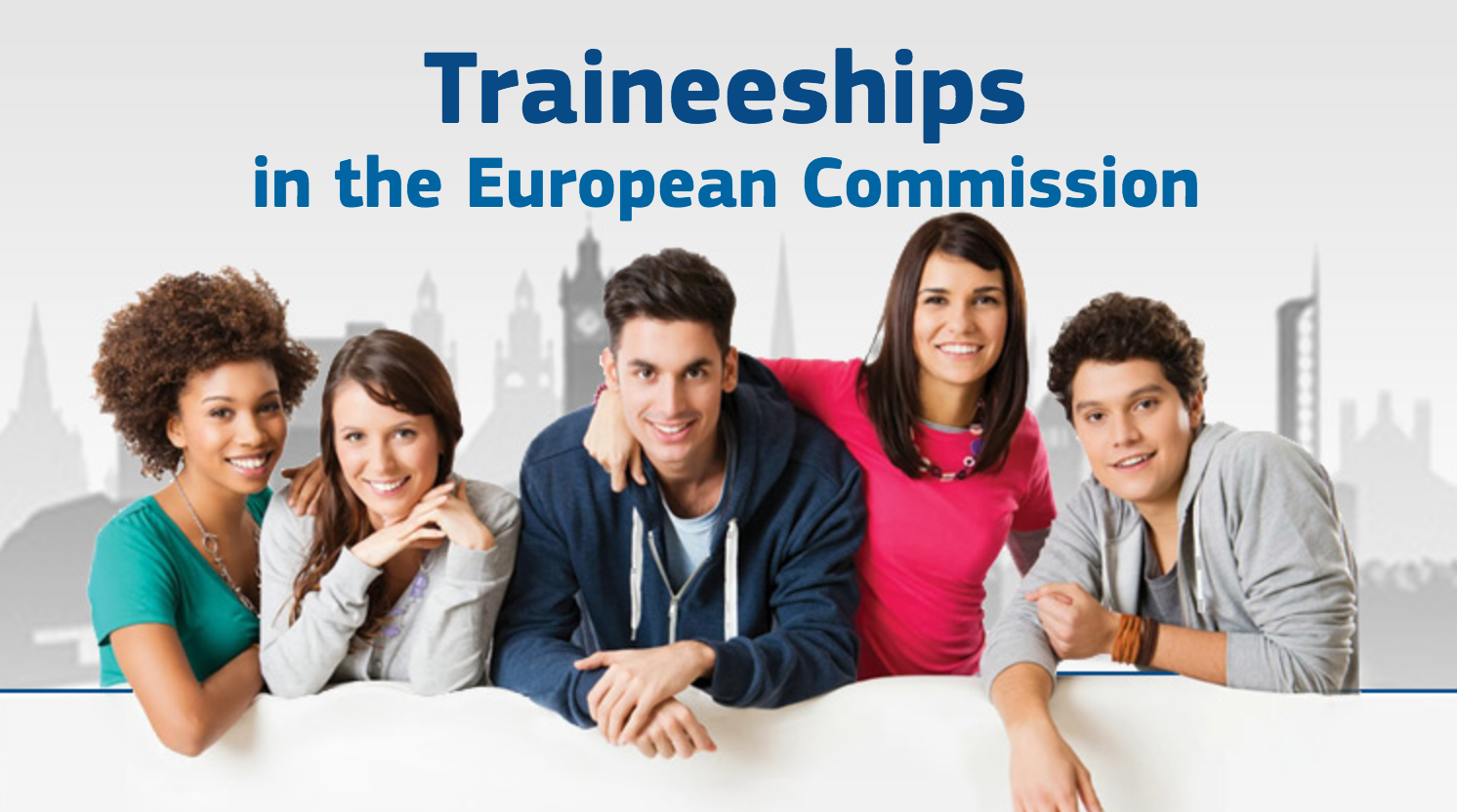 Apply: Paid Traineeships at the European Commission 2018
Deadline: August 31, 2017
Registrations are now open for the March 2018 traineeship session. Every year, there are about 1.300 places available. A traineeship at the European Commission helps candidates get hands-on experience in the international and multicultural environment. This can be an important enrichment to further their career.
A traineeship at the European Commission is much more than just a professional experience. Trainees work all over the European Commission. Each batch of trainees organises a huge range of non-formal learning, social activities, from football to wine-tasting and much in between – in true bureaucratic fashion, each with its own organising committee. There are usually 40-50 of such activities to choose from. The content of the job largely depends on the service you are assigned to. You may, for example, work in the field of competition law, human resources, environmental policy
A typical trainee's daily work mainly consists of:
Attending and organising meetings, working groups, forums, public hearings;
Researching and compiling documentation, reports, consultations, answering queries;
Running projects.
The traineeship offers:
EU knowledge – insight into the processes and policies of the European Institutions;
Practical experience – an opportunity to play a part in the Commission's day-to-day business;
Opportunity to put academic theory into practice.
Benefits
A paid traineeship of 5 months with the European Commission, starting on either 1st March or 1st October.
You will receive a monthly grant of 1,159.40 € as of 1st March 2017 and reimbursement of travel expenses. Accident and health insurance can also be provided.
Eligibility
The traineeship programme is open to university graduates, from all over the world who have a:

Degree of at least 3 years of study (minimum a Bachelor);
Very good knowledge of English or French or German (C1/C2 level in accordance with the Common European Framework of Reference for Languages);
Very good knowledge of a second EU official language (required for nationals of EU countries).
You must have completed at least 3-years of study with a degree to apply for a Blue Book traineeship. Only if you have a certificate or an official confirmation from your university that you have at least a 3-year degree will you be eligible to apply.
You can apply once per session but as many times as you want until you are finally selected. If you do not pass the pre-selection, or you are in the Blue Book but not selected for a traineeship, you will have to submit again your application. It will undergo again the pre-selection with no guarantee that you will successfully pass it and be in the Blue Book again.
Selection Criteria
Candidates are anonymously evaluated in the assessment phase by two different evaluators, on the basis of following criteria:
Level of education (a full university degree of at least three years of studies is mandatory);
Language level in one of the three European Commission working/procedural languages (English, French, German) other than your mother tongue/s (mandatory);
Language level in the remaining European official languages and/or non EU-languages, if applicable;
Relevance of work experience, if applicable;
International profile – experience of living/working abroad (mobility);
Motivation and quality of reasoning;
IT Skills, organisational skills, publications and rare domains of study.
How to apply
Before applying, take our survey to see if traineeship at the EC is for you
Register and Complete the online application here.
Supporting documents from pre-identified candidates:
The European Commission does not require you to submit any documents with your application form. However, when the assessment phase of the pre-selection is finalised, only pre-identified candidates for the Virtual Blue Book will be invited to provide supporting documents in electronic version, such as:
Copy of a valid ID card/passport;
Copy of university qualifications declared as completed;
Proof of ongoing studies, university exchange programme abroad, participation in EU/international programmes, seminars/workshops, if applicable;
Proof of all declared language skills other than the mother tongue/s;
Proof of all declared work experiences, if applicable;
Proof of all declared IT skills and publications, if applicable.
For more information, visit Traineeships in the European Commission.