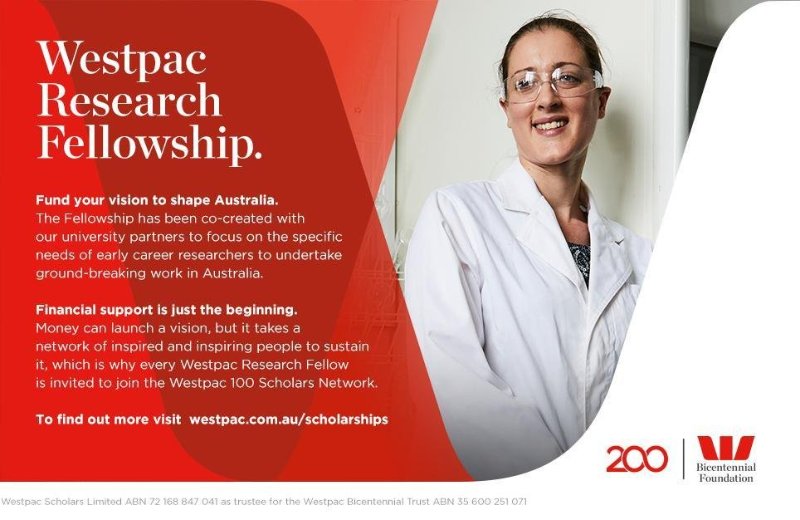 Westpac Bicentennial Foundation Research Fellowship 2017-2018
Deadline: August 31, 2017
Applications are ongoing for the Westpac Bicentennial Foundation Research Fellowship. Westpac Bicentennial Foundation is partnering with Australia's leading research universities to offer two Westpac Research Fellowships valued at a minimum $400,000 over three years. This unique fellowship supports outstanding early career researchers whose ground-breaking work has the potential to make a difference in one of the Foundation's focus areas:
Technology and innovation
Strengthening Australia-Asia ties
Enabling positive social change
Fellowship recipients will be exceptional people, chosen for their intellectual ability, leadership qualities, and commitment to the community. The Fellowship has been co-created with Westpac university partners to focus on the specific needs of their research Fellows, and covers each early career researcher's full-time salary plus professional development and global experiences.
Partner Universities
The Westpac Research Fellowship is offered at four leading Australian universities:
The Australian National University
The University of Melbourne
The University of Queensland
The University of Sydney
Your proposed program of study can be in any field of world class standing at one of these universities, and must be relevant to the Foundation's focus areas.
Fellowship
The Fellowship funds each Fellow's full-time salary and on-costs for a period of up to three years from the date of award;
The Fellowship will include access to a $30,000 Westpac Professional Development Fund provided and administered by the host university. This Fund is to be used by the Fellow to tailor professional development and global experiences that maximise the Fellow's potential to contribute in their area of research and enhance their career opportunities; and
Access to the Westpac Scholars Alumni program.
Eligibility
Fellowship applicants must be an Australian citizen or permanent resident;
You have been awarded a PhD between September 1, 2011 and September 1, 2014; or have obtained an Eligibility Exemption from the Deputy Vice Chancellor (Research) or equivalent if your PhD was awarded prior to September 1 2011;
Your proposed area of research is in a field of research at a participating university with an Excellence in Research for Australia (ERA) four digit Field of Research (FOR) rating "well above world standing". For a comprehensive list of FOR ratings by university, visit the Australian Research Council's website.
You are able to commence your research by 30 June 2018;
Your proposed research will contribute to the future of Australia in one of the Foundation's three focus areas (please note: funding requests for the purpose of medical research as defined in the ARC Medical Research Policy available on the Australian Research Council website will not be considered);
Your proposed research includes international opportunities to develop your leadership skills and global networks, such as; study tours for the purpose of research, attending a short course or conference, an internship or volunteering.
You are able to supply two letters of reference, one academic reference and one personal reference; and a letter of support from the Deputy Vice Chancellor (Research);
You are able to attend the National Assessment Centre held in Sydney on 12/13 December 2017.
Application
Key Dates
June 15, 2017: Applications open
August 31, 2017:

Applications close

December 12-13, 2017:

National Assessment Centre in Sydney

December 20, 2017:

Notification of outcome

April 11-12, 2018:

Westpac Scholars' Summit
For more information, see FAQs or visit Westpac Bicentennial Foundation Research Fellowship.