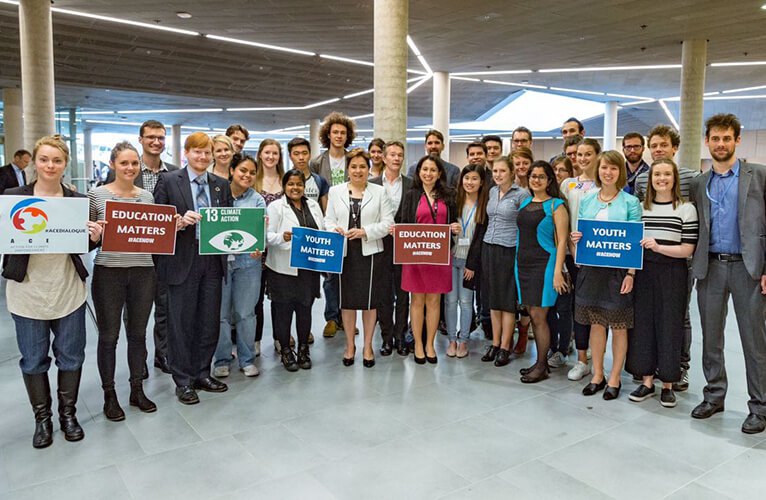 YOUNGO Global South Scholarships to attend COP23 and COY13 in Bonn, Germany!
Deadline: August 24, 2017
YOUNGO is now accepting applications for the Global South Scholarships. This is an opportunity for youth from the Global South Countries to receive complete financial support and capacity building training to participate at UNFCCC's 23rd Conference Of Parties (COP23)  and 13th Conference Of Youth (COY13) in November, 2017 in Bonn, Germany!
YOUNGO is the official youth constituency to UNFCCC – and serves as the formal collective voice of youth for all UNFCCC processes. Youth were given the constituency status within UNFCCC in 2009.
In light of the barriers facing the participation of youth from the Global South, the GSS 2017 will provide the necessary financial resources to enable more young people to attend COY13 and COP23 who otherwise would not have the opportunity. Alongside covering the costs of their participation (travel, accommodation, food, etc), the GSS 2017 will also provide a robust capacity building program to empower Global South participation which is effective, rather than tokenistic.
Benefits
Have all your expenses covered for participating at the 23rd UNFCCC Conference of Parties (COP23) and Conference of Youth 13 (COY13)
Participate in a comprehensive capacity-building programme
Share your experiences and raise your voice at international level
Opportunity to connect your initiative and previous work on an international level and get engaged in YOUNGO:
A lifetime worth of memories
Eligibility
As a GSS Applicant you ensure us that:
If selected, you will be available to join COP 23 and / COY 13 in Bonn, Germany for full duration from November 2nd – November 18th. And shall also be able to attend the online Capacity Building Training sessions prior to the conference.
You are, or will turn, at least 18 years old on or before October 30, 2017
You are a citizen/national of one of the countries listed in Africa, Arab States, Asia and Pacific, Commonwealth of Independent States, South/Latin America.
Application
Complete the online application
Your application can be counted as invalid if:
– your details are incomplete/has obvious mistakes,
– responses exceed the word limits,
– false statements given,
Before you apply, Click Here to see if you are eligible to apply.
NOTE: Since the number of applications are expected to be high in number, please be precise in your answers. Feel free to use bullet points/write answers pointwise in the paragraph type questions.
For more information, visit YOUNGO Global South Scholarships.