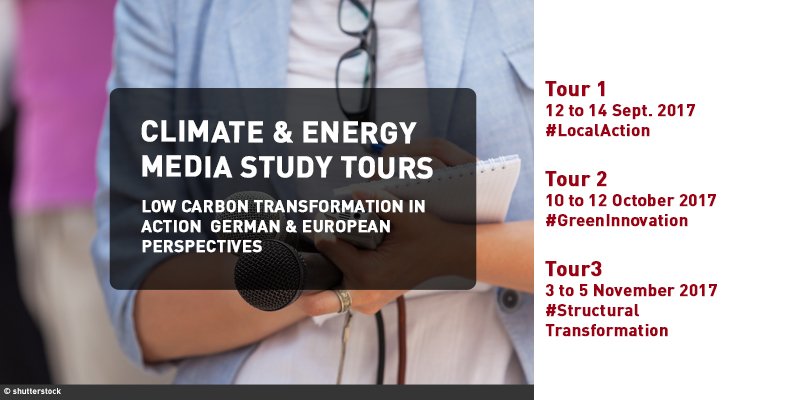 Climate and Energy Media Study Tours 2017 (Funded)
Deadline: August 20, 2017
Are you a journalist reporting on climate, energy or environmental issues for a major media outlet in Bulgaria, Croatia, Czech Republic, Estonia, Hungary, Latvia, Lithuania, Poland, Romania, Slovakia or Slovenia? Apply now for an individual study tour for journalists from Central and Eastern Europe.
The Tours will offer an exclusive insight into Germany's climate and energy policies and their impacts. What's the story behind Germany's Energiewende? How does the country benefit from its efforts to cut emissions? What have been the main challenges along the way? You can choose from the series one or more tours with the following distinct themes: local action, green innovation and structural transformation – in three different areas of Germany.
Benefits
Step behind the scenes and take this opportunity to meet the people involved in the country's switch to a low-carbon economy, widely known as the Energiewende.
Explore pioneering flagship projects and gather information on the opportunities and obstacles the country has experienced so far.
Take advantage of this opportunity to gain exclusive insights into Germany's "climate policy transformation in action" in the run-up to COP23 in Bonn.
Meet and discuss with journalists from Germany and other European countries current topics of climate and energy politics.
Cost
Participation in the media study tours is free of charge. Accommodation and travel expenses during the tour will be covered by the organisers;
During the tour, meals and refreshments, including breakfast and lunch, will be provided, but participants are expected to pay for dinner themselves;

Participants must cover their own expenses for travel to and from Germany (respective city where the study tour will begin and end). If justified, in individual cases we can provide support for travel expenses upon request.
Eligibility
Open to journalists from Central and Eastern Europe who have an interest or track-record in reporting on energy, climate and environmental topics, and who comply with the following eligibility criteria:
Complete set of application documents submitted before the deadline (online application form, CV);
Currently working as a journalist or in a comparable field (journalism, (social) media, broadcasting) for an established news medium with a verifiable public reach in one of the following countries: Bulgaria, Croatia, Czech Republic, Estonia, Hungary, Latvia, Lithuania, Poland, Romania, Slovakia, Slovenia;
Professional track record or proven interest in climate action and energy policies (writing samples, preferably accessible via web links, are an asset);
English language skills;
Regular internet access.
Application
If you would like to participate, you can sign up here. All application documents need to be submitted before August 20, 2017. Please note that journalists meeting the eligibility criteria may apply for a maximum of two media study tours;

Successful candidates will be contacted by August 25, 2017 and provided with a detailed preliminary agenda for the respective study tour.
For more information, see FAQs or visit Climate and Energy Media Study Tours.